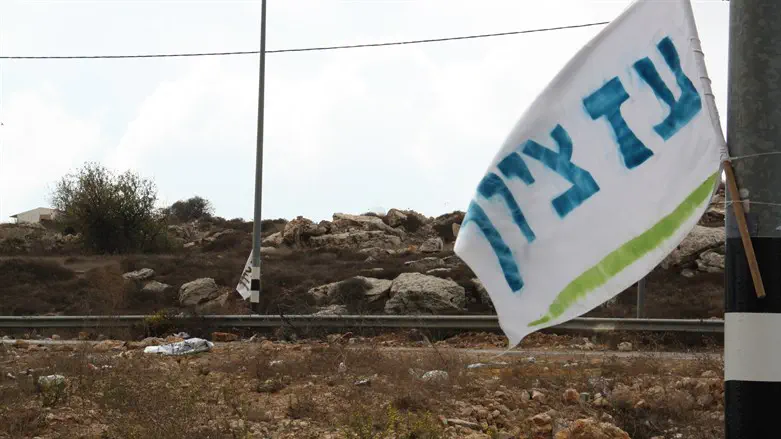 Oz Tzion (file)
Hillel Meir
A resident of the hilltop community Oz Zion, Yehuda Lieber, who is serving regular service in the IDF in the Hesder track of the Binyamin Brigade, received a message from the army that his request to extend his military service to full service was not accepted.
According to Lieber, his commanders had already approved his continued service, but then, with the intervention of the ISA (Shin Bet0, it was decided that he would end his mandatory service and continue on the Hesder track, in which he would be required to return to Yeshiva. The young man has no criminal record and has not been investigated in the past for violent incidents or other nationalist events.
Lieber also noted that a few months ago, when he asked to go home with a weapon, he was met with a complete refusal by a senior officer in the Judea and Samaria Division who replied disdainfully, "The IDF's weapons are not intended to protect the residents of the hills."
Residents of Oz Zion commented: "The outrageous conduct of the coordinators of the Jewish Department of the ISA and the officers of the Judea and Samaria Division shows, unfortunately, a complete loss of values and a treatment of the residents of the hills as enemies for all intents and purposes. What was going through the mind of the officer who disregarded the lives of the residents here in such a way? If the IDF's weapons were not intended to protect, among others, the people of the hills, then who were they intended to protect? The Arabs in the nearby murderous village?"
"It is sad to see that even when a resident who is married and has children decides to leave his family at home and go serve in the army for his people and country, the Judea and Samaria Division disregards his family's life and does everything in their power to thwart his efforts. For years, the ISA has worked tirelessly to spread the word that the 'hilltop youth' are not Zionist people and pioneers who refuse to enlist and defend the country, and now this case appears and exposes the shame of the system and proves beyond any doubt that the one who prevents the 'hilltop youth' from enlisting is actually the security system itself," they added.
An IDF spokesperson stated in response: "The soldier served in the IDF in the Hesder route and his release date was set upon entering the route for September 19, 2023, the day he was actually released. According to information from security officials, the soldier was involved during his service in nationalist-motivated activity against the security forces, and in view of the aforementioned, it was decided not to grant his request to extend the service."