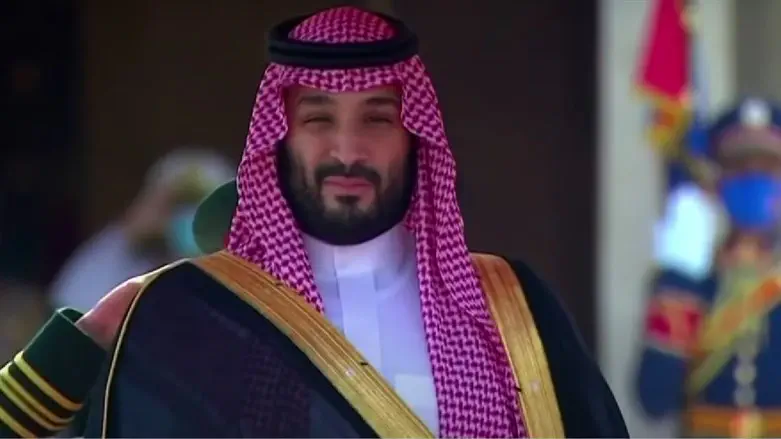 Mohammad Salman al-Saud
i24NEWS
Saudi Crown Prince and Prime Minister Mohammed Bin Salman (MBS) and Israel's Prime Minister Bibi Netanyahu have given their clearest indication to date that current talks between them to normalise relations between Saudi Arabia and Israel could include their reaching agreement on the terms to successfully implement the Hashemite Kingdom of Palestine solution (HKOPS).
Jordan, the PLO and Hamas could accept this agreed Israel-Saudi position or choose to maintain the current status quo until amendments acceptable to them are reached.
Importantly – the normalisation of relations between Israel and Saudi Arabia would not be contingent on HKOPS or any other agreed Israel-Saudi position first being implemented.
Netanyahu summed up this approach when addressing the United Nations General Assembly:
"I've long sought to make peace with the Palestinians. But I also believe that we must not give the Palestinians a veto over new peace treaties with Arab states. The Palestinians could greatly benefit from a broader peace. They should be part of that process, but they should not have a veto over the process."
HKOPS is the Saudi-based 2022 proposal authored by a confidante of MBS – Ali Shihabi – whose features include:
Merging Jordan, Gaza and part of Judea and Samaria (West Bank) into one territorial entity to be governed by Jordan's current Hashemite rulers with its capital being located in Amman – not Jerusalem
Granting equal citizenship to all residents currently living within its boundaries and Palestinian Arab refugees living elsewhere.
Dividing sovereignty in Judea and Samaria (aka "West Bank") between Israel and the newly-created entity.
Jerusalem becoming the sole capital of Israel.
MBS's interview with Bret Baier on Fox News has seen analyst Bilal Saab astutely making the following observations:
"What is a bit curious about the crown prince's words on the Palestinian issue is that he did not specifically tie normalisation with Israel to a two-state solution or to an outcome that gives the Palestinians a state of their own.
"He said: 'We have good negotiations…we hope that it will reach a place that will ease the lives of the Palestinians.' Was it deliberate, signalling a change in Saudi policy? If that is the case, this is a huge deal because it means that Saudi-Israeli normalisation may be closer than assumed."
In fact, that's precisely what he said: "Every day, we get closer."
Netanyahu – in addressing the UN General Assembly - was equally optimistic on normalising relations with MBS very soon:
"There is no question. The Abraham accords heralded the dawn of a new age of peace.
"But I believe that we are at the cusp of an even more dramatic breakthrough – an historic peace between Israel and Saudi Arabia. Such a peace will go a long way to ending the Arab Israeli conflict. It will encourage other Arab states to normalize their relations with Israel. It will enhance the prospects of peace with the Palestinians. It will encourage a broader reconciliation between Judaism and Islam, between Jerusalem and Mecca, between the descendants of Isaac and the descendants of Ishmael. All these are tremendous blessings."
author Michael Snyder queried on 7 September: "Is There A Secret Plan To Merge Jordan, Gaza And The West Bank As Part Of A Normalization Agreement Between Israel And Saudi Arabia?"
HKOPS has never been secret following its publication on 8 June 2022. Attempts by the United Nations, European Union and the international media since then to bury the existence of HKOPS have been contemptible.
The chickens are coming home to roost.
Please join my Facebook Page: "Hashemite Kingdom of Palestine supporters"
Author's note: The cartoon — commissioned exclusively for this article — is by Yaakov Kirschen aka "Dry Bones"- one of Israel's foremost political and social commentators — whose cartoons have graced the columns of Israeli and international media publications for decades.

David Singeris an Australian lawyer who is active in Zionist community organizations in that country. He founded the "Jordan is Palestine" Committee in 1979.