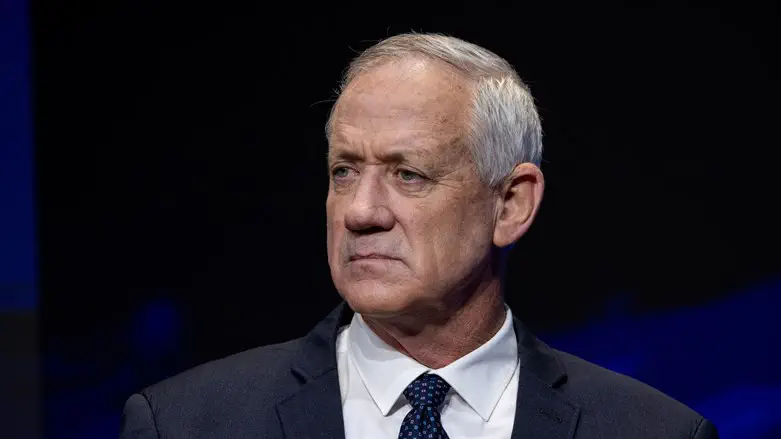 Benny Gantz
Yonatan Sindel/Flash 90
Officials in the National Unity Party are criticizing party chairman MK Benny Gantz, claiming he is preventing a process of holding primaries in the party.
National Unity is an alliance between Gantz's Blue and White Party and MK Gideon Sa'ar's New Hope Party.
As Israel National News reported in the post, MK Gadi Eizenkot has been leading a process of democratization within the party for the past year and seeks to lead towards a process of holding internal elections.
The party is still considering how to conduct the primaries, and whether the vote will be only for the party's Knesset slate or also for the position of party chairman.
"Primaries are one tool among many that are being considered and serious thought is being put into on it," party officials said.
The officials claimed that Gantz is currently preventing the promotion of the initiative, even though the original agreement on the basis of which the alliance was formed, stated that a process of primaries would be initiated.
Israel National News has also learned that many Knesset members in the party are not satisfied with Gantz's response to the riots by protesters against worshipers who prayed at Dizengoff Square in Tel Aviv during Yom Kippur, and say they expected a more decisive response against the protesters and in favor of the worshipers immediately at the end of the fast and not several days later.
MKs in the party hinted that the two parties, which until now were united, have recently shown signs of disintegration, since "the gaps that have arisen are mainly ideological".
"Gantz doesn't like that we take the liberty of voting on some of laws," charged a New Hope MK who joined his colleagues in Blue and White in wondering why Gantz didn't back the worshipers at Dizengoff Square. One of the MKs said that "the public wants primaries and there is a majority within the party for such a move. Maybe this is why Gantz is declining in the polls recently."
The National Unity Party did not comment.