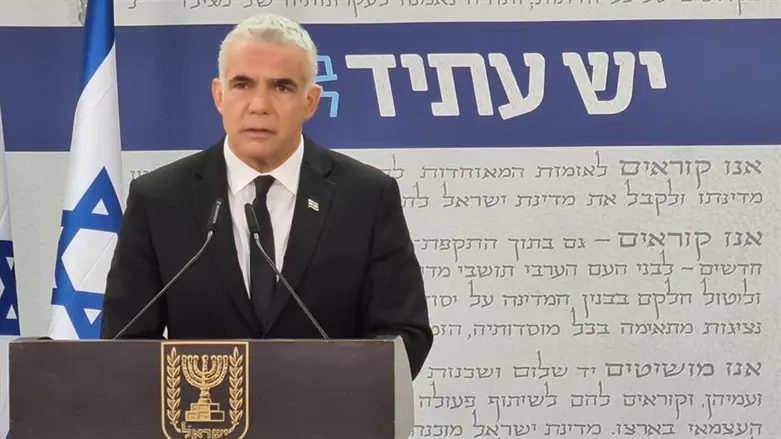 Yair Lapid
Yesh Atid
The chairman of the Yesh Atid party, MK Yair Lapid, clarified this evening (Monday) that the primaries in the party he announced will only be for the leadership of the list, but the members of the Knesset will continue to be elected in the existing way by a ranking committee and directed by Lapid.
"Today we made Yesh Atid a democratic because it is a necessary step in our maturing to be a ruling party," Lapid claimed, adding that he opposes the primaries for a list for the Knesset. "Primaries destroyed the Likud, it finished Labor, I see no reason to import their mistakes to us."
In addition, Lapid published a tweet in which he supposedly "informed" himself about his competition in the primaries, shortly after MK Ram Ben Barak announced his candidacy for the leadership of the party.
This is the first time that primaries will be held for the leadership of the party - 12 years after it was founded. The primaries will be held in December.
Members of the Yesh Atid party were informed that the annual party conference will be held during this month. As part of the conference, the issues on the agenda will be discussed and a vote will be held on the appointment of the chairman of the party.
The bylaws require the person interested in running to comply with the bylaws according to which he is qualified to be prime minister, a member of a party for at least three consecutive years prior to the date of the election for party leadership and has not been convicted of a defamatory offense and it has not been decided to prosecute him for a defamatory offense.
In addition, the party demands that anyone interested in running must present at least 10 percent of the party comittee, which includes seventy individuals, who will sponsor his candidacy.
In an interview earlier this week with Radio 103FM, Lapid said: "I think there should be primaries for my position, not for Knesset members, and if you want to know why I suggest you go through the Likud Knesset members. There will be a primary for the position of chairman of Yesh Atid."