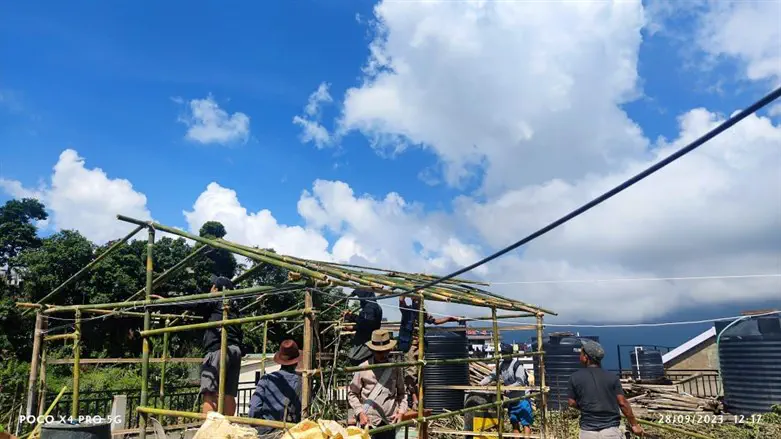 Bnei Menashe communities of Manipur and Mizoram, in northeastern India, celebrat
Courtesy of Shavei Israel
Like many Jews around the world, the Bnei Menashe community of northeastern India is gathering to celebrate Sukkot this week despite the ethnic unrest and widespread violence which started May 3rd in the northeastern Indian state of Manipur, affecting hundreds of Bnei Menashe Jewish families. In their festival prayers, the Bnei Menashe will offer a special plea, to fulfill their age-old dream to make Aliyah to Israel during the coming year.
"Despite these challenging times for the Bnei Menashe and even in the farthest reaches of northeastern India, they have continued to uphold the ancient tradition of building Sukkot in honor of the festival," said Shavei Israel Founder and Chairman, Michael Freund. "We fervently hope that next year, they will be able to do so in Israel."
According to Freund, at least one Bnei Menashe community member, Yoel Baite, a father of 4, was killed, and several others remain hospitalized with injuries.
In the southern Manipur district of Churachandpur, Shavei Israel has opened a relief center to assist more than 1,100 Bnei Menashe that have sought refuge there. The organization's local staff, together with people dispatched from Israel, have been arranging for temporary shelter for the families and have been distributing food packages containing rice, lentils, vegetables and other basic items. In addition, Shavei Israel has given diapers and baby formula to parents with infants, medicine to the sick and elderly, and have also purchased clothing such as shirts, pants, etc. since many of the refugees were forced to leave their belongings behind.
The remaining Bnei Menashe refugees are spread out in three other locations and Shavei Israel is providing assistance to all of them. In Kangpokpi, Manipur, the organization's staff are helping 200 refugees; in the border town of Moreh they are providing aid to 350 people; and in the neighboring state of Mizoram, where 350 Bnei Menashe fled from Manipur, they are assisting them as well.
So far, Shavei Israel received support from UJA-Federation of NY, the Jewish Agency for Israel, Christians for Israel and various other groups. But according to Freund, the situation is dire and additional funding will be necessary to continue to sustain the refugees.
"Thus far, more than 2,000 Bnei Menashe (representing 40% of the entire community in all of northeastern India) have been forced to flee their homes," said Freund. "This figure is nearly double the number that had been displaced just two months ago, as the situation has continued to deteriorate. Nearly all those who have fled have been left destitute."
The Bnei Menashe, or sons of Manasseh, claim descent from one of the Ten Lost Tribes of Israel, who were sent into exile by the Assyrian Empire more than 27 centuries ago. Their ancestors wandered through Central Asia and the Far East for centuries, before settling in what is now northeastern India, along the borders of Burma and Bangladesh. Throughout their sojourn in exile, the Bnei Menashe continued to practice Judaism just as their ancestors did, including observing the Sabbath, keeping kosher, celebrating the festivals and following the laws of family purity. They continued to nourish the dream of one day returning to the land of their ancestors, the Land of Israel.
Thus far, Shavei Israel has made the dream of Aliyah, immigration to Israel, possible for over 5,000 Bnei Menashe and plans to help bring more members of the community to Israel. Currently, there are 5,000 Bnei Menashe awaiting their return to the Jewish homeland.