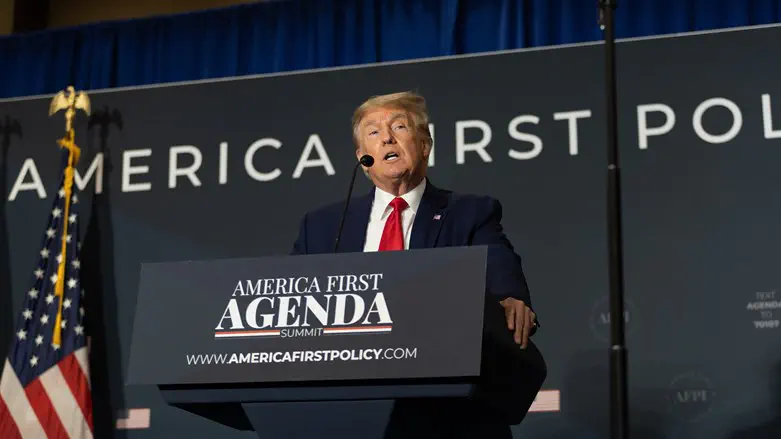 Donald Trump
Reuters
Former US President Trump said on Sunday that Rep. Jamaal Bowman (D-NY) should be jailed for the "egregious act" of pulling the fire alarm ahead of the House's vote on Saturday on a stopgap measure to keep the government open past the midnight deadline, The Hill reported.
"Will Congressman Jamaal Bowman be prosecuted and imprisoned for very dangerously pulling and setting off the main fire alarm system in order to stop a Congressional vote that was going on in D.C.," Trump wrote in a Truth Social post. "His egregious act is covered on tape, a horrible display of nerve and criminality."
Bowman a day earlier acknowledged he triggered a fire alarm in the Cannon House Office Building, forcing the building to evacuate. Bowman claimed it was an accident as he rushed to vote on a last-minute bipartisan stopgap funding bill rolled out by House Speaker Kevin McCarthy earlier in the day.
Committee Chair Bryan Steil (R-WI.) said the matter is under investigation.
Republicans quickly accused the New York Democrat of intentionally trying to sabotage the high-stakes vote.
Trump claimed in Sunday's statement that Bowman's act was a "very dangerous 'Obstruction of an Official Proceeding,'" the same charge that dozens face in connection with the Jan. 6, 2021, Capitol attack.
"It was a very dangerous 'Obstruction of an Official Proceeding,' the same as used against our J-6 prisoners," Trump wrote. "Actually, his act may have been worse. HE MUST SUFFER THEIR SAME FATE. WHEN WILL HIS TRIAL BEGIN???"