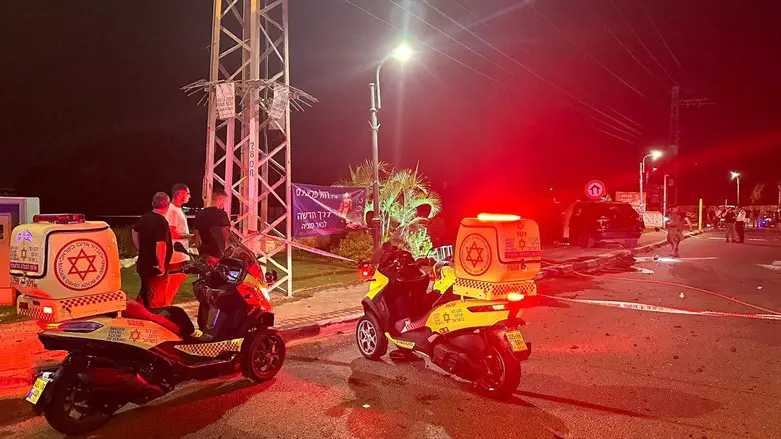 Scene of the vehicle explosion near Moshav Hatsav
MDA spokesperson
An explosion and a shooting incident took place within minutes of each other in southern Israel on Sunday.
In the incidents, which occurred near Kiryat Malakhi, one person was killed, a second was critically injured, and two more suffered moderate and severe injuries.
Initial investigations show that the criminals placed an explosive device in a vehicle, which exploded, and then attempted to escape the scene. Following a short chase, they were shot by the police officers who were pursuing them.
In the vehicle blast near Moshav Hatsav, one person was critically injured and a second seriously injured. The critically injured victim later died of his wounds.
Magen David Adom (MDA) paramedic Yonatan Yozef, who lives nearby, said, "I live in a nearby moshav and I immediately went to the scene. I saw a burned and smashed vehicle, and in the driver's seat a man of about 37 was trapped. He was unconscious and showed no signs of life, and within a short time we were forced to declare his death. From the vehicle we extracted a man of about 33, who was fully conscious and suffering multisystem injuries. We provided him with medical treatment and evacuated him to a hospital in serious condition."
A short time after the first incident, two people were injured - one critically and one moderately - from gunshots near the Bnei Re'em Junction, near Hatsav. MDA staffs arriving at the scene evacuated both victims to Kaplan Medical Center in Rehovot, while working to resuscitate the critically injured victim.