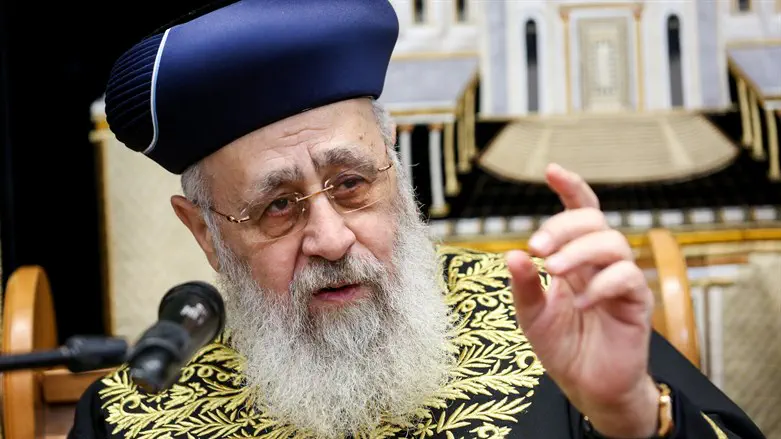 Rabbi Yitzhak Yosef
David Cohen/Flash90
Israel's Sephardic Chief Rabbi Yitzhak Yosef slammed the protests against the Rosh Yehudi prayers held in Tel Aviv on Yom Kippur (the Day of Atonement).
"I see everything that is happening in the secular public," Rabbi Yosef said. "They are to be pitied. They have no satisfaction in life. Everything is for the desires of this world. But we need to draw them closer, as various organizations do, bringing them closer and helping them return to Judaism, and that is what my father did."
"They are jealous of us," he added. "It's all jealousy, which creates hatred."
Yom Kippur saw clashes at multiple locations in Israel, with protesters harassing Jews - secular, religious, and traditional alike - who were attempting to pray the Yom Kippur prayers.
Among these was an incident in Haifa, in which dozens of protesters waited for the worshippers, yelled at them, cursed them, and chanted: "You're hated, you're not wanted in Haifa."
In another incident, protesters harassed worshippers in Jaffa, during a prayer service held by a yeshiva for the benefit of the public. This service has been held for several years in the same place, due to the fact that the local synagogues are unable to accommodate the High Holiday crowds.
In Tel Aviv itself, at Habima Square, protestors interfered with the Yom Kippur prayers held by the Tzohar rabbinical organization at the conclusion of Yom Kippur. After repeated interruptions, it was decided to move the prayer to the parking lot of the house of one of the organizers. The organizers of the prayer pointed out that it was the non-religious worshipers who asked the protesters to leave, but were refused.
The most well-known clash occurred at Tel Aviv's Dizengoff Square, when protesters clashed with the worshippers, destroyed the partition made of Israeli flags, and removed the chairs that the organizers had placed. The prayer was eventually stopped and moved to a side street, and one of the demonstrators was detained for questioning.