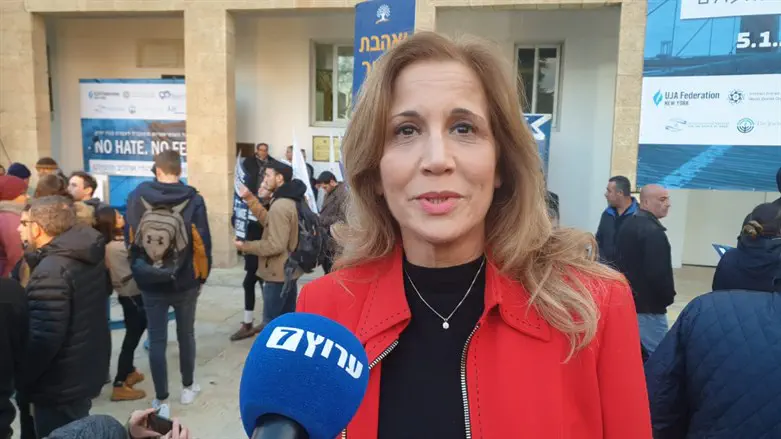 Dr. Aliza Lavie
INN.
Chairwoman of the Israel Film Council, former MK Dr. Aliza Lavie, in an interview with Israel National News (INN) condemns the protesters who burst in to the women-only screening of a movie for the haredi sector, finding it difficult to understand the logic of this harsh act of protest.
According to Lavie, as long as she is in charge, she will not allow a situation where haredi women are not able to watch a movie according to their religious and halakhic beliefs, with gender segregation.
"I don't understand the argument that stands behind the incident. This is a case of simple violence. I ask where has female sisterhood gone? Are the rights of haredi women to enjoy cinema and culture any less than the rights of other women and men?" she queries.
As the chairwoman of the Israel Film Council, Dr. Lavie states that, "We have excellent cinema in the haredi sector as well. In recent years, we have amazing haredi women filmmakers who create amazing movies that speak a special and interesting language, bringing a lot of insight and understanding and intended for haredi women."
Lavie emphasizes that there are also quite a few haredi female creators who also compete in the broad field of creation and not only in their domestic sector. "I really don't understand what happened yesterday. I protest it and think that red lines were crossed that should not have been crossed. An apology should be sounded loudly."
Referring to the latest incident as part of the recent incidents in which religious Jewish leaders were attacked, the most prominent of which is the Yom Kippur incident, Dr. Aliza Lavie says that indeed, "The tables have turned," and red lines were crossed. "We have now seen the opposition leaders realize the damage of their words that were said right after the fast ended and they changed their attitude." Lavie mentions that the municipal order has been in place since 2018 and the question has arisen as to what happened now that led to this incident.
"It is clear to us that this is the same line that has been crossed because of a protest without limits and restraints. We should have determined the constraints of the protest a while ago. It is clear that we need to protest and express our opinion on every issue. We are a democratic country, but I recognize that there is a cynical use of the public arena here, both against Judaism and against those who have taken the issue of women's rights and turned it into a political tool. This is not women's rights. This is not female sisterhood. What do you want from haredi women who have the full right to sit in the cinema and watch a movie? Soon they will try and claim that it is impossible to hold separate prayer services in community centers? In the name of whom and in the name of what? Very clear boundaries were crossed here. The struggle became a struggle of culture, belonging and identity. I think it does a lot of damage to those who are leading this protest, and we saw after Yom Kippur some of the leaders saying 'enough is enough.' Unfortunately, after things were set free, everyone is taking matters into their own hands and even taking pride in it."
Lavie talks about the meetings she holds with the haredi artists who are not unionized and who do not always succeed in obtaining the same funds that support cinematic works, in order to find a budgetary solution that will allow them to bring their work to the forefront, and indeed the Deputy Minister of Culture has budgets intended for exactly this purpose.
Regarding INN's question about the political silence surrounding the recent events in Jerusalem, Lavie says that she "is seeing reactions from colleagues, which I don't always agree with, and they understand that red lines have been crossed. Also many who support the protest say that the last event in Jerusalem was a very difficult one that harmed the protest. I hope you understand that this is not the way, this is not how you fix it and not how you change it, even if you want to express shock about things that are being done. It's impossible to define every event as an exclusion. Absolutely not."
Dr. Lavie adds that religious or haredi artists who do not wish to perform in front of men should be allowed to do so: "They have audiences, and they want to perform in front of their audiences, so why not? Why not allow it?"