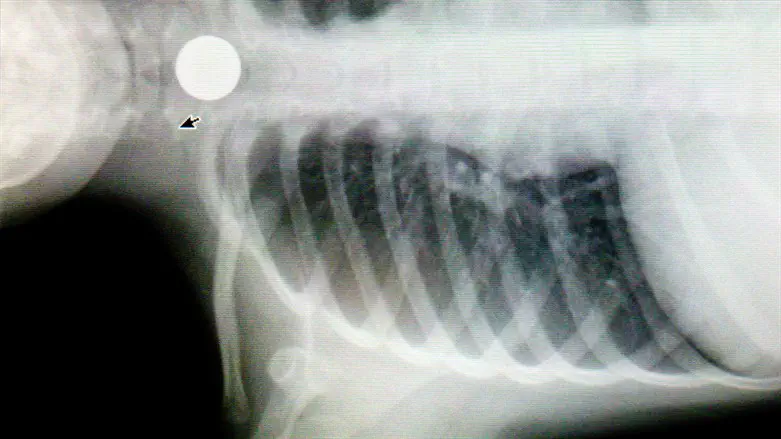 Button battery lodged in child's throat (illustrative)
iStock
A battery swallowing incident by a 15-month-old baby ended well with an emergency procedure performed at Hadassah in the middle of the night, as the doctors successfully prevented significant damage to the baby, who was in a life-threatening condition.
When 15-month-old Laila began vomiting nonstop, no one in her family imagined that the baby had reached a button battery and swallowed it. She continued to vomit for two days and had a high fever, and repeated visits to the family doctor were to no avail.
Button batteries are found in many homes, sometimes even in children's games, so children have easy access to them.
"We were on vacation until now, so we spent a lot of time with the children at home," says Safa, the baby's mother. "I have three children, and I try to keep them busy most of the day, and I'm around them all day. A few days ago, I noticed something was wrong with Laila; she didn't drink her bottle of milk, and what she did drink, she vomited. She developed a fever, and for two days, we thought she had a virus. When we went to the family doctor, he put her on medication. Still, I noticed that the treatment wasn't helping, and her condition worsened. I insisted that we go to the emergency room at Hadassah Mount Scopus."
"As soon as I arrived, the medical staff I met started asking many questions, trying to understand why Laila was vomiting and why her treatment wasn't working. They asked me if she swallowed anything, and I said no. Laila is with me all day, and I'm a very responsible person. I didn't think there could be a way she put anything in her mouth without my noticing. They still asked permission to x-ray Laila to be sure. The answers were not long in coming, and I realized that Laila had swallowed a battery that endangered her life."
Dr. Efrat Amitai, a senior physician in the Pediatric Emergency Department at Hadassah Mount Scopus Hospital, said: "Laila came to the hospital with complaints of vomiting and fever. In pediatric emergency medicine, we need to think about all possible scenarios that can explain the symptoms before us. We understood from her mother that there was no story of swallowing an object. Still, the answers from her blood tests did not match what her mother was certain had not happened. We knew that we needed to look in other directions."
"We know that sometimes children escape their parents' eyes, and even a few seconds are enough to swallow objects, so we took Laila for an X-ray. From that moment, we realized that we were in a state of emergency; we saw the reflection of a round object in the upper esophagus, and the signs that we know to identify indicated that it was a battery. We immediately contacted Dr. Liron Birimberg-Schwartz, the pediatric gastroenterologist on-call that evening, and she confirmed our concerns that it was indeed a button battery. A battery in the esophagus should be removed as soon as possible, as significant damage may be caused within a short time. We knew that Laila had been vomiting for two days, and the complications could be severe."
Laila was rushed at midnight for an emergency procedure at Hadassah Ein Kerem, attended by Dr. Sagit Stern, an Ear, Nose and Throat (ENT) specialist, Dr. Liron Birimberg-Schwartz, a specialist in pediatric gastroenterology and the medical director of the Hadassah Organoids Center, and Dr. Nermeen Abdelkader, an ENT resident, who were prepared for the most complex scenario.
"Button batteries may seem small and innocent, but they are a ticking time bomb," explains Dr. Birimberg-Schwartz. "The energy charge, the substances released from the battery, and the local pressure created can cause severe damage to the esophageal lining and ulcers. The longer the battery remains in the esophagus, the greater the risk of a hole in the esophagus (perforation), and in rare cases, there may even be life-threatening complications, including damage to nearby blood vessels. Swallowing a button battery is an emergency. The patient should be taken immediately to the emergency room to remove it without delay."
"Laila arrived after the battery had been stuck in the esophagus for probably two days, so we prepared in the operating room for worst-case scenarios, including one in which a hole had already formed in the esophagus, so a general surgeon and a cardiothoracic surgeon were called to the operating room. Dr. Stern worked very carefully and managed to remove the battery. Immediately afterward, I assessed the severity of the damage to the esophagus and ensured no immediate visible complications, including bleeding. We identified diffuse necrotic damage to the esophagus lining caused by the battery staying there for a long time. Had it stayed there for a few more hours, the damage could have been even more severe, with life-threatening consequences.
"Fortunately, Laila's recovery was quick, and she was released after a two-week hospitalization, during which we ensured that no further complications developed and that she could drink. Unfortunately, there is still a very high chance that she will develop esophageal stenosis in the future, making it difficult for her to swallow and requiring repeated widening procedures. We will continue to monitor her closely."
Dr. Birimberg-Schwartz concluded: "We urge all parents to ensure that children do not have access to button batteries. The batteries are found in small flashlights, flashing rings, small cars and games, and many other objects in the house. If your child has swallowed a battery, you should take the child to the emergency room as quickly as possible."