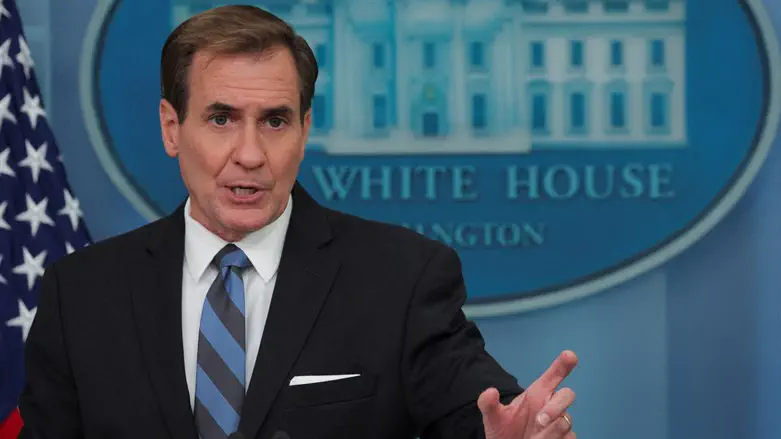 John Kirby
REUTERS/Jim Bourg
US National Security Council Spokesman John Kirby told reporters on Friday that a "basic framework" was in place for a potential deal to normalize ties between Saudi Arabia and Israel, but cautioned that there is no final deal yet.
"All sides have hammered out, I think, a basic framework for what we might be able to drive at," Kirby told reporters during a phone call, according to report in Al Arabiya.
He said the US was still careful about talking to the public about what the framework would look like and what each side would be expected to do.
"But as in any complex arrangement, as this will inevitably be, everybody's going to have to do something, and everybody's going to have to compromise on some things," Kirby stated, adding that an agreement between Saudi Arabia and Israel would be beneficial to both as well as US national security interests and "everybody else in the region."
Kirby also said several common denominators were driving the process forward, including threats from Iran to the US, Saudi Arabia and Israel.
"So, I would just say, watch this space; we're continuing to work at this," he said, then added that there was no final deal yet. "So, you know, until you negotiate everything, you haven't really negotiated anything final."
Meanwhile, sources told Reuters on Friday that Saudi Arabia is determined to secure a military pact requiring the United States to defend the kingdom in return for opening ties with Israel and will not hold up a deal even if Israel does not offer major concessions to Palestinian Arabs.
While an Israeli-Saudi deal is widely expected to include Israeli concessions towards the Palestinian Authority, and Secretary of State Antony Blinken recently said that the Palestinian Arab issue will be part of a normalization agreement, three sources told Reuters that the Palestinian Arab core demand for statehood would take a back seat.
Prime Minister Benjamin Netanyahu said during his speech to the UN General Assembly last week that "I believe that we are at the cusp of a historic peace between Israel and Saudi Arabia. Such a peace will go a long way to ending the Arab Israeli conflict."
Two days before Netanyahu's speech, Saudi Crown Prince Mohammed bin Salman commented on the negotiations with Israel in an interview with Fox News.
"Every day we get closer, it seems it's for the first time real one serious. We get to see how it goes," he said, adding his country could work with Israel, no matter who is in charge and calling a potential deal "the biggest historical deal since the end of the Cold War."
Meanwhile, Tourism Minister Haim Katz landed in Riyadh this week in order to take part in the United Nations World Tourism Organization (UNWTO) conference. Katz became the first Israeli minister to head an official delegation to Saudi Arabia.
(Israel National News' North American desk is keeping you updated until the start of Sukkot in New York. The time posted automatically on all Israel National News articles, however, is Israeli time.)