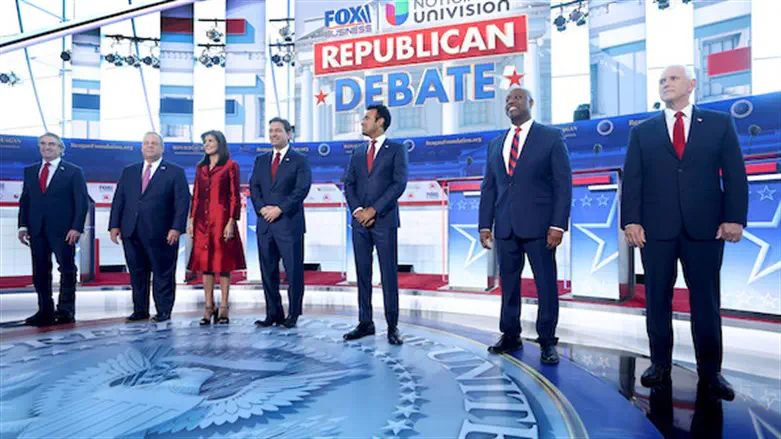 GOP debaters
The Lid
For the umpteenth time, Republican presidential aspirants gathered for a debate at the Ronald Reagan Library above Simi Valley, Calif. The frontrunner once again decided not to give millions of viewers a chance to hear his policies — he's apparently feuding with the library, so we had seven folks on stage. Let's offer some curt thoughts on each participant.
Nikki Haley
The champion of last month's melee, Haley raised massive sums of money in the aftermath, as folks see her as a clear winner over Joe Biden should GOP primary voters allow it. The South Carolinian doubled down on being fiscally prudent, firm on school choice, and steadfast in her support for our international allies.
Haley also delivered the most policy-dense answer of the evening. She articulated in 30 seconds a vision for healthcare reform that could deliver results. Unfortunately, a GOP president would need healthy Republican majorities in Congress to do any of that. Haley has caught DeSantis for second place and is competing with the Florida governor to be the non-Trump alternative.
Ron DeSantis
Fortunate to not be attacked during his first debate, the Florida chief received mixed reviews and had much to gain or lose as his poll numbers flatline.
DeSantis came out dangerously ignorant of Ukraine policy, and his continued inability to take a proper stand on this critical issue is troubling. Our southern border and drugs are not affected by our Ukraine spending.
On education, policing, and abortion, however, DeSantis is solid. But he needed more than a modest improvement over his last outing to reclaim his status as a viable alternative to Trump. Nothing he said Wednesday galvanized or separated him from the others.
Tim Scott
Fading a bit due to a disappointing evening in Milwaukee, the happy warrior came out strong in Simi Valley, even interrupting, as was clearly the plan, then faded a bit. The senator was solid on Ukraine and how the left has destroyed the nuclear family. It was unnecessary that the moderators — who were overall atrocious — forced him to attack Haley over some esoteric nonsense.
Vivek Ramaswamy
Coming off his churlish performance in Wisconsin, followed by a disastrous week — mixed with debunked conspiracies and mishaps — the millennial had options. He could have become more rational but mainly diverted to negativity, unrealistic policies, talking point recitation, and failed to mend fences. Everyone on the stage enjoyed direct attacks on him. He was embarrassed on TikTok and a disaster yet again in Ukraine. Opening with an appeal to labor unions while standing in a shrine to free markets is also off-putting.
Chris Christie
A more taciturn Christie held his own in round one. He had moments in Southern California, particularly prosecuting Trump and teachers' unions. Like eight years ago, the New Jerseyan is solely focused on New Hampshire. Will he even last that long, though?
Mike Pence
Unusually pugilistic last time, Pence was on the stage's figurative and literal edge and had limited impact. Many of his answers were convoluted. The former vice president's impossible task is distancing himself from Trump — while not distancing himself too much — and espousing a robust foreign policy and social conservativism to a country more interested in grievance and culture wars.
Doug Burgum
The North Dakota topper showed why an intuitive executive would be a good commander-in-chief. Pretty much everything he has said was sharp and defensible, at the very least, but this is 2023, not 1983. Burgum would be a great chief of staff or cabinet secretary for a Republican president.
There is only one debate remaining. Some Republican candidates still forget that to oust Biden, they must first secure the party nomination, which means coalescing the non-Trump coalition and defeating the MIA former president. Participants should have focused on Trump's vulnerabilities, not each other, with Iowa just over 100 days away.
A.J. Kaufman is a correspondent for several U.S. newspapers and magazines from Minnesota and Ohio to Tennessee and Virginia. He taught school and served as a military historian before beginning his journalism career. He is the author of three books and a frequent guest on radio programs, and contributes to Israel National News and here at The Lid.