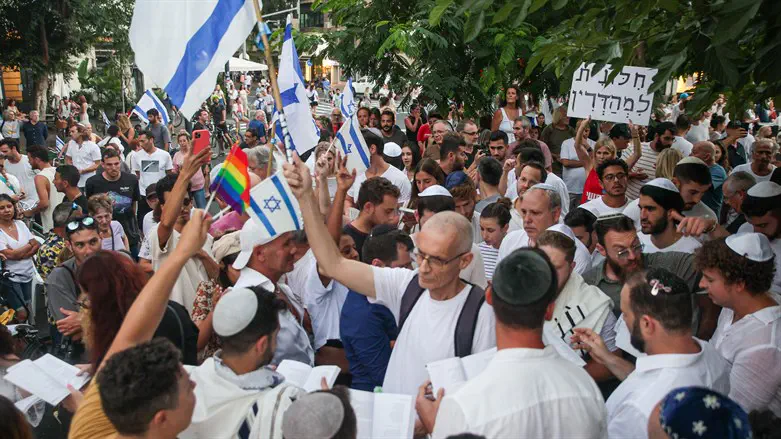 Yom Kippur service at Dizengoff Square
Eti Ron/Flash 90
The Municipality of Tel Aviv-Jaffa officially informed the Rosh Yehudi movement today (Thursday) of the cancellation of all the permits the movement had received to hold events in the public space during the Sukkot holiday.
The letter informing them of the cancellation of the permits was given to the association after a hearing was held on the matter "due to its violation of the conditions of the permit given to it for Yom Kippur prayers in Dizingoff Square by placing a partition without the required permit and using physical means of gender segregation contrary to the municipality's policy."
Among the events which were cancelled were the operation of a public Sukkah and the holding of 'second hakafot' in Dizengoff Square.
The municipality stated that Rosh Yehudi refused to acknowledge that it had erected a partition or to take any responsibility for the violence that occurred at the Yom Kippur prayer service on Monday night, and added that allowing the organization to hold further events risked a repeat of the same violence.
Rosh Yehudi has held outdoor prayer services at Dizengorff Square on Yom Kippur for the last few years without incident. This year, unlike in previous years, the municipality forbade the association from placing a mehitza, a partition between men and women, in the square during the prayers, effectively forbidding the holding of Orthodox prayers in public areas as mehitzas are mandated under halakha, or Jewish law. The Tel Aviv District Court upheld the ban despite the violation of freedom of worship for all religious Jews that the ban represented.
Rosh Yehudi attempted to get around the ban by using Israeli flags as a partition. The prayer services were disrupted by left-wing protestors who tore down the flags and attacked worshippers. The municipality has taken advantage of the violence committed by the left-wing protestors to cancel the organization's Sukkot events altogether.