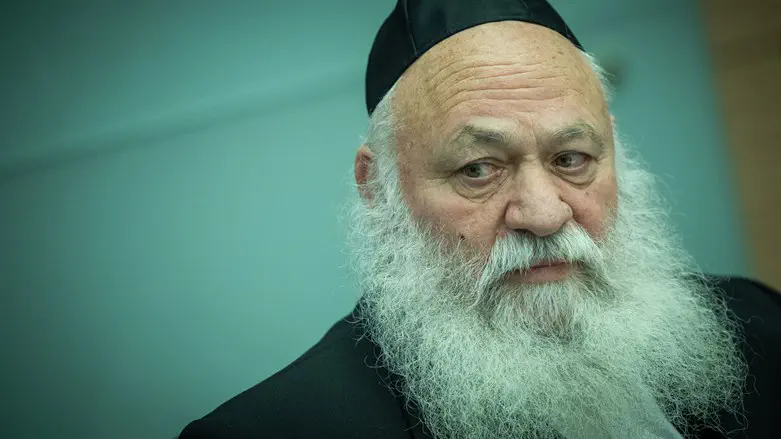 Yitzhak Goldknopf
Yonatan Sindel/Flash90
Construction and Housing Minister Yitzhak Goldknopf, who heads the United Torah Judaism (UTJ) party, said in closed conversations that his party will not support continued legislation on the judicial reform until the Draft Law passes, Israel Hayom reported.
According to the report, Goldknopf noted that, "There is no argument about the law, there is a clear commitment by the Prime Minister in the coalition agreement. We respected the coalition's demands thus far, and now during the winter session we must first of all pass the Draft Law, that is the agreement. Prior to this, we will not support any legal legislation."
Goldknopf also demanded the fulfillment of Cabinet Secretary Yossi Fuchs' commitment to submit a memorandum on the Draft Law by the start of the Knesset's winter session; two weeks before the promised date, there are still disagreements on the matter within the government.
Meanwhile, the government is working to ensure that it meets the deadline it committed to, and it has been decided that the bill which was proposed several months ago and which gave the haredim a complete exemption at age 21 for the purpose of encouraging them to join the job market will not be pushed forward.
Now, the government is discussing what was previously known as the "Attias Plan," which sets the age of exemption lower than the current 26 but which requires the government to set enlistment goals so that each year a minimum number of haredim will be required to enlist, thus avoiding the issues involved in a blanket exemption. This would essentially not change the status quo, since the enlistment goals will be set according to the enlistment rates which exist today in the haredi community, and anyone who does not wish to enlist will not suddenly find himself forced to do so because of the law.
In an effort to stall public criticism, the coalition is emphasizing the fact that the new plan and its enlistment goals were already agreed upon by the Netanyahu-Gantz unity government in 2020. However, those agreements also stated that after the law passed, another law would be passed which would regulate the matter in a more comprehensive fashion - and that law will not be advanced.
Sources in the Likud are concerned that the new draft, which will offer an almost blanket exemption to haredim, is liable to arouse public criticism including from coalition supporters, further fueling the anti-reform and anti-government protests, which have since taken an anti-religious bent as well.