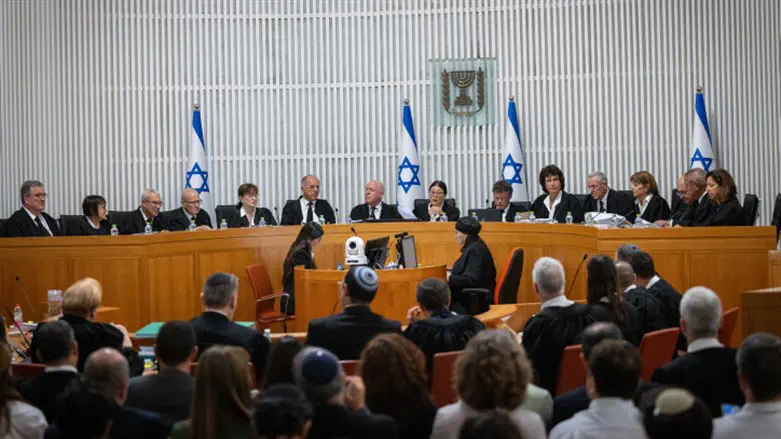 Supreme Court justices
Yonatan Sindel/Flash90
The Supreme Court on Thursday will hold a hearing on two petitions requesting that it interfere and invalidate the Incapacitation Law.
The hearing, in which 11 justices will participate, will be livestreamed.
The bill, which passed in March, is an amendment to a Basic Law and stipulates that a Prime Minister can only be declared unfit for office as a result of physical or mental inability to carry out his duties, and only by the Prime Minister himself or by the vote of three-quarters of the members of the Cabinet.
Should the Prime Minister object to putting the decision to the Cabinet, it would go to the Knesset, where at least 90 MKs would have to approve the move.
In August, the Supreme Court temporarily froze the application of the law, and ordered the State to explain why it would not delay the implementation of the bill until the next government.
According to the justices, the way the law was passed clearly shows that it was passed for the benefit of Israeli Prime Minister Benjamin Netanyahu, and therefore it is a personal law.
Netanyahu is expected to tell the court that the justices do not have the authority to discuss the law, since it interferes in the will of the people, as expressed by democratic vote.
Attorney General Gali Baharav-Miara believes that the bill should not be implemented at least until the next Knesset, since according to her, it is a personal bill.
The Knesset's legal adviser, Sagit Afik, opposes Baharav-Miara's position, saying that the court must not interfere in Basic Laws, and that the Incapacitation Law does not influence Netanyahu's personal affairs.
According to Kan News, a senior coalition source warned that if the court interferes on the matter of when the law goes into force, the government will weigh legislating the law a second time, with different wording.
According to that report, if the Supreme Court delays the implementation of the law so that it will not apply to Netanyahu, the coalition is likely to issue a harsh statement.