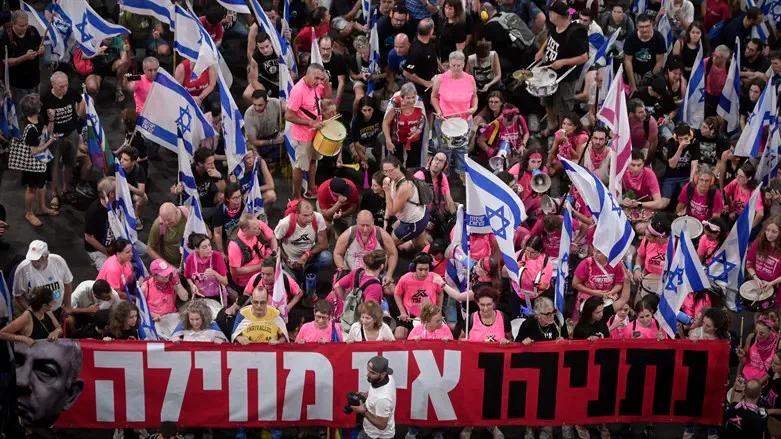 anti-govt. protest in Tel Aviv
Avshalom Sassoni/Flash90
In a precedent-setting ruling, Judge Michal Agmon-Gonen has decided to allow the Tel Aviv municipality and its mayor, Ron Huldai, to take part in the protests against the government's planned judicial reforms, Kan Reshet Bet reported.
In her decision, Judge Agmon-Gonen wrote that "it may be that the protest is the clearest expression of democratic civil action in recent years. In the publication which is the subject of the petition before me, the mayor mentions that the name of the square where tens of thousands of people have been protesting for many weeks was changed by the municipality to Democracy Square."
"It seems, then, that also in this respect, part of the role of the municipality and the mayor is to express their position within the framework of the protests, the main issue of which is the democratic foundations of the State of Israel.
"Since this is an issue centered on freedom of expression, an advertisement that the mayor puts up on his Facebook page has an additional advantage in terms of the democratic test, since the authority can effectively allow the residents to make their voices heard in a way that will be heard by the decision-makers in the central government.
"The city of Tel Aviv-Jaffa constitutes the main stage for the protests, and has allowed [the protests] in its territory from the beginning while making arrangements for residents and others in cooperation and coordination with the police."
She later claimed that the protest "allows residents to be effective citizens who take responsibility for their future through active participation in political life."