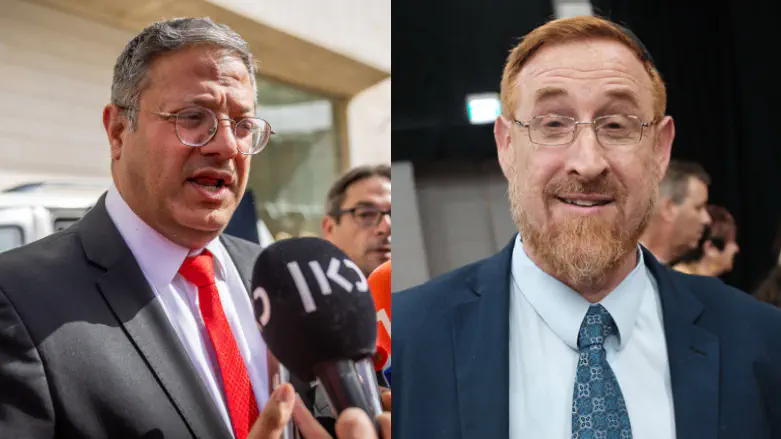 Itamar Ben Gvir (L) and Yehuda Glick (R)
Yonatan Sindel, Tomer Neuberg/Flash90
The Shin Bet thwarted an Iranian attempt to carry out terrorist activity in Israel, including the intention of harming public personalities. Five were arrested, including two Israeli citizens, residents of Nazareth and Muqeible.
It was released for publication that Shin Bet activities, in cooperation with the Israel Police and IDF, exposed and thwarted a terrorist cell, which operated in Israel and the Judea and Samaria region, following guidance and direction of Iranian security officials in order to carry out acts of terrorism to undermine the stability of the State of Israel and the sense of security of its citizens.
The investigation resulted in the Shin Bet's arrest of five suspects: three Arabs - Murad Kamamaja, a 47-year-old resident of Kafr Daan; Hassan Mujarimah, a 34-year-old resident of Jenin; and Ziad Shanti, a 45-year-old resident of Jenin; as well as two Israeli citizens, residents of the north of the country – Hamad Hammadi, a 23-year-old resident of Nazareth, and Youssef Hamad, an 18-year-old resident of Muqeible.
Shin Bet interrogations revealed that Murad and Hassan acted under the direction and guidance of an official living in Jordan, who acted on behalf of Iranian security officials. The two were asked to assist in smuggling illegal weapons into Israel's territory and to gather intelligence about security personnel and senior public figures, including political figures – Minister Itamar Ben Gvir and former Knesset member Yehuda Glick. Investigations revealed that security arrangements around the minister prevented them from carrying out the task they were required to perform.
In addition, Murad and Hassan acted under the direction and guidance of factors acting on behalf of the Iranian security forces, in promoting the execution of terrorist activity within Israel, including by setting vehicles of Israeli citizens on fire.
The Shin Bet investigation also revealed that Murad and Hassan recruited Ziad Shanti in order to promote the security activities, with the latter being aware that Iranian factors were orchestrating the operations.
As a result, Ziad Shanti recruited two Israeli citizens – Hamad Hamadi and Youssef Hamad – to set fire to the vehicles, and the two carried out the mission in Haifa (6/22/23) and even documented this on video. It is estimated that this was a test mission for the head factors in Iran in order to further promote a much more serious terrorist activity, which was thwarted with the arrest of the cell members.
The investigation revealed an Iranian method of operation, using Israeli citizens, including those with a criminal background, and recruiting them to promote terrorist activity on criminal operational platforms, in exchange for payment.
"This affair illustrates, once again, Iran's increasing efforts to undermine security, social and political stability in Israel, through the recruitment of Israeli and Arab citizens for security and criminal activities," the Shin Bet stressed.
In recent days, indictments were filed in the military court and District Court in Haifa by the Haifa District Attorney's Office, against those involved in these operations, attributing to them serious security offenses.
"The Shin Bet and Israel Police regard the involvement of Israeli citizens in security activities in Israel directed by Iran and its affiliates with grave severity," the statement added.
"The Shin Bet carries out and will continue to carry out active moves to monitor and prevent any activity that endangers the security of Israel and its citizens, in order to expose and thwart Iranian efforts to carry out terrorist activities within the borders of Israel, and will work to bring the parties involved to justice."
Glick told Israel National News (INN): "I thank Hashem the blessed God Almighty who guards and protects me day and night and his faithful messengers who pray for me all over the world."
"To the security forces who are constantly in contact with me, thank you for your intensive activity for the security of Israel. With Hashem's help and even though there will always be those who are not interested in true Shalom, I will continue to work in cooperation with Jews and non-Jews, believers from all over the world, to promote complete and true Shalom, in which Mount Zion, the House of God, will be a house of prayer for all nations. 'I am peace, and when I speak, they are for war.'(Psalm 120) 'May all those who hate Zion be ashamed and retreat.' (Psalm 129)"
Minister of National Security, Itamar Ben Gvir (Otzma Yehudit) responded: "I would like to express my thanks to the Shin Bet and the security forces, who led to the discovery and capture of the terrorist cell that intended to assassinate a minister in Israel. I will continue to work fearlessly and even more vigorously to initiate a fundamental change in the prison conditions of terrorists in Israel, for the continued war on terror, for the rights of prayer and Jewish sovereignty on the Temple Mount, for the integrity of our country, and to ensure the safety and security of the citizens of Israel."