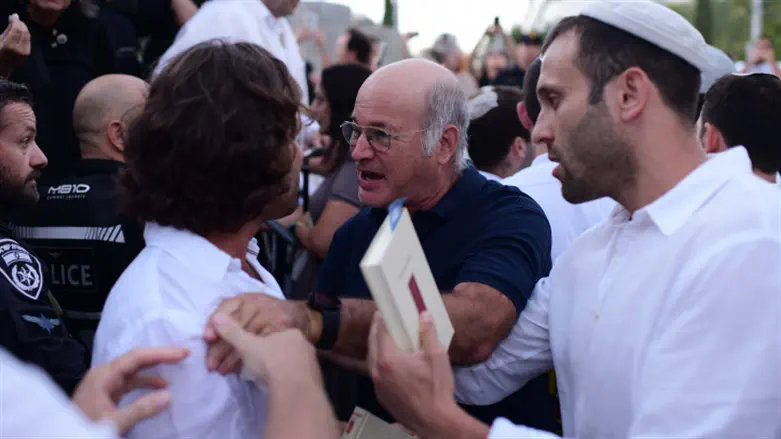 Dizengoff, Yom Kippur
Tomer Neuberg/Flash 90
One of the worshipers at the Yom Kippur prayers at Dizengoff Square was filmed confronting the left-wing demonstrators, after he realized their intention to disrupt the prayers and made it clear to them that he protests with them every Saturday on Kaplan Street.
"I'm at Kaplan every Shabbat (Saturday). I'm a high-tech professional, secular, I live here in Tel Aviv," the young man shouted at the protesters. "When you say 'you,' are you talking about the kippah (skullcap - ed.)? The color of my skin?"
He continued: "Come on, you enlightened leftist, explain to me, who is 'you'? I am on Kaplan every Shabbat fighting for my democracy and one day a year I decide to wear a kippah, so suddenly I am 'you?'"
One of the readers responded to the recording: "Maybe now this young man will understand who the people he is demonstrating next to every Saturday are. For them he will always be 'you.'"
The protest began after the organizers tried to use an Israeli flag as a partition, after the court accepted the municipality's position that gender segregation during prayer in the public space should be prohibited.
Residents who arrived at the site confronted the worshipers, destroyed the partition, and even cleared the chairs that the organizers had placed.
The prayers were eventually stopped and moved to a side street, where one of the demonstrators was detained for questioning. A group of protesters demonstrated outside the police station where the protester was being questioned.