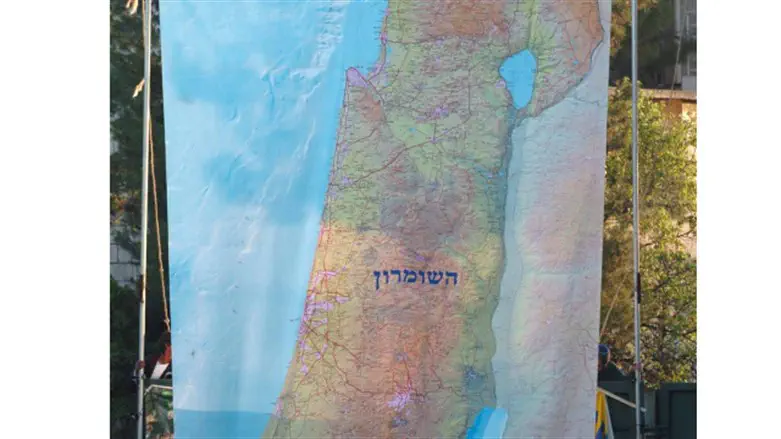 The Holy Land
Flash 90
Numerous itinerant scribes throughout the ages have documented their travels to the Holy Land , Israel , the land of the Jewish faith and people . Paradoxically all seemed to have missed , forgotten or purposefully left undiscovered and undocumented the Palestinians.
One would expect to discover at the very minimum a Palestinian language, currency, flag, emblems, cemeteries, buildings standing or destroyed constructed by Palestinians or historical references to Palestinian leaders or noted individuals.
One would expect to find references to battles, wars or conflicts fought by indigenous Palestinians against any domestic or foreign enemies and invaders. No such evidence exists. And surely any of these numerous itinerant scribes through the centuries who documented their journeys to the geography would have written about the people identifying as Palestinians.
Below are just a selection of travelers who recorded their experiences to the area claimed by today's Palestinians but none of these itinerants recorded anything alluding to a tribe, race, ethnicity, people, nation or culture as the Palestinians.
Why is that? It's because they never existed.
They are simply a collection of Arabs from surrounding countries who decided to identify as Palestinians in the mid 1960s with the objectives as per their 2 Charters 1968 and 1988 to exterminate Jews . They have never changed those Charters.
Those writers who somehow missed any reference to "Palestinians" are -
Siebald Rieter 1426 – 1488, Maps to Jerusalem
Berhard von Breydenbach, 1440 -1497, Pilgrimage
Felix Fabri, 1451 – 1502, Pilgrim and Preacher
Martin Kabatnik, 1428 -1503, From Jerusalem to Cairo
Arnold van Harff, 1471 – 1505, The Pilgrimage
Father Michael Naud, circa 1674, The Jerusalem Connection
John Bowles, 1701 – 1779 The Twelve Tribes Map
Edward Robinson, 1794 – 1863, Biblical Researches
Sir George Gawler, 1795 – 1869, Syria and its near Prospects
Alphonse de Lamartine, 1790 – 1869, From Marseilles to Jerusalem
Sir George Adam Smith, 1856 – 1942, Jerusalem.
Others who travelled to the geography and documented their experiences and somehow missed the indigenous Palestinians were -
Edward Webbe 1553 - 1590 , Thomas Shaw 1694 - 1751 , Count Constantine Francois Volney 1757 - 1820 , William Thackeray 1811 - 1863 ,
Gustav Flaubert 1821 - 1880 , James Finn 1806 - 1872 , Alphonse de Lamartine 1790 - 1869 , Samuel Clemence ( Mark Twain ) 1835 - 1910 ,
BW Johnson 1833 - 1894
Peter Baumhas experience in International Finance, and has regularly contributed on the subject matter through written articles, TV appearances and lectures. He was chairman of Southend Young Conservatives, founding member of Southend Friends of Israel, current delegate on the Board of Deputies and Executive Council member of Fair Reporting.