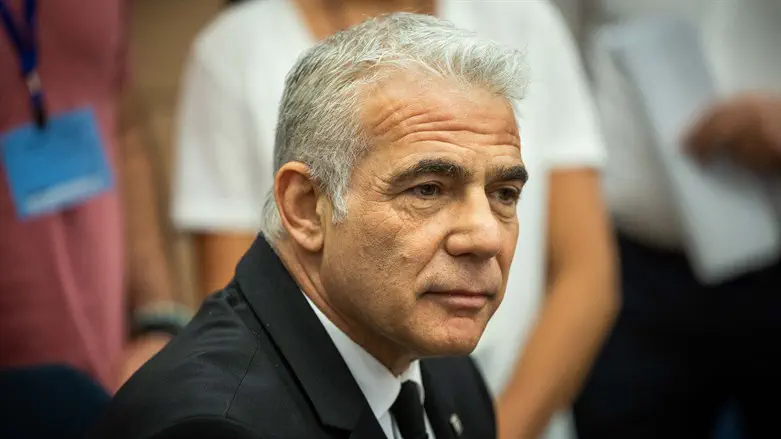 Yair Lapid
Yonatan Sindel/Flash90
Opposition Chairman Yair Lapid this evening (Tuesday) addressed the violence perpetrated against worshippers in Tel Aviv on Yom Kippur and Minister Ben-Gvir's intention to hold prayers in protest at Dizengoff Square on Thursday in response
"The events of Dizengoff Square must not recur," wrote Lapid. "One of the things that Yom Kippur symbolizes is taking responsibility. If you just say, 'They started it,' then there is no atonement on Yom Kippur."
He noted that "some women prefer separation" from men during prayers as mandated by Orthodox Jewish law.
Addressing Ben-Gvir's planned prayer, he said: "I call on everyone to ignore Ben-Gvir's 'prayer' on Thursday in the Square. Leave him there alone. There is no greater punishment for him."
He added that "one of the greatest dangers of our time is that we will become what we are fighting against. You cannot defeat hate with hate. You cannot defeat bigotry with bigotry. Instead of raising our own partitions, I want to suggest an original substitute for anger: faith in ourselves, in our values, in our ability to understand reality. Not every encounter with others should result in disaster, not every argument should go to extremes."
According to Lapid, "We are moderate people. This is our strength; this is how we understand life in a Jewish democracy. The response to religionization is not to move away from tradition. The response to separation is not saying goodbye to prayer. Judaism does not threaten us; it is ours and it is part of our identity. It is the reason for living in Israel, for service in the IDF, and for social involvement. Our Judaism is the belief in women's rights, LGBTQ rights, in the rights of 'the stranger who is in our land.'"
"So what is our solution?" Lapid contemplated and explained that "the answer is actually right before us. We must go back to last year. Even last year, before the coup divided our society, there were religious and secular people here, and there was Tel Aviv (and Modi'in, and Haifa), and we held prayers, and Yom Kippur was quiet, and holy. We wore white shirts and considered each other's feelings. Last year too, there was complexity, but there was good will – this is the most lacking commodity in Israel."
In conclusion, Lapid clarified: "With good intentions we can uphold our liberal principles, but not blow up prayers and not give the messianic community the religious war they so badly want. We believe with all our hearts that women should not be excluded from the public space, but we have seen that not only men want to pray separately, there are also women who prefer to do so. We know that partitions are bad, but with a little goodwill, are there no other solutions we can think of?"