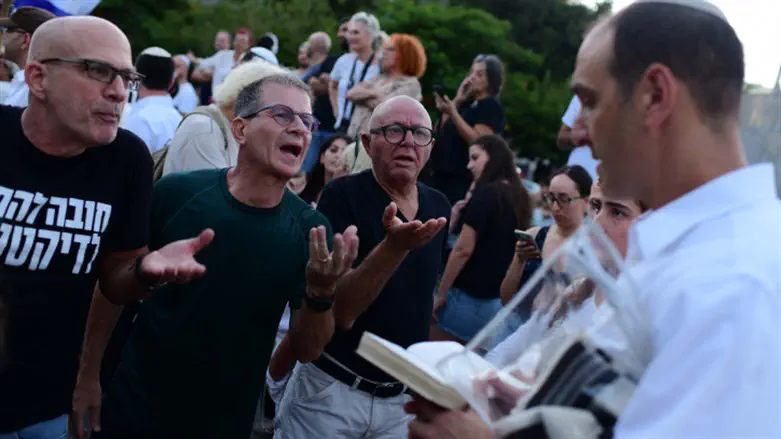 Disturbance at Tel Aviv prayer service
Tomer Neuberg/Flash 90
Israel's Consul in Chicago, Yinam Cohen, commented on his Facebook account about the clashes during the Yom Kippur prayers in Tel Aviv, even though as an official diplomat he is not supposed to express himself publicly on political issues.
"There is no forgiveness for those who made the Yom Kippur prayer a thorn in the side of the city's residents," wrote Cohen.
Matan Peleg, chairman of the Im Tirtzu' movement, demanded in response that the Consul be removed from his post.
"Perhaps the Consul forgot this, but in the Declaration of Independence, the root Jewish appears 20 times. There is no forgiveness for those who see prayer on the holiest day for our people as a poke in the eye," Peleg wrote.
The Ministry of Foreign Affairs stated in response to Israel National News's inquiry on the subject: "Recently, a clear directive was issued on the subject that Foreign Ministry employees will maintain [diplomatic] policy and not express themselves on political issues, and accordingly the matter will be examined."