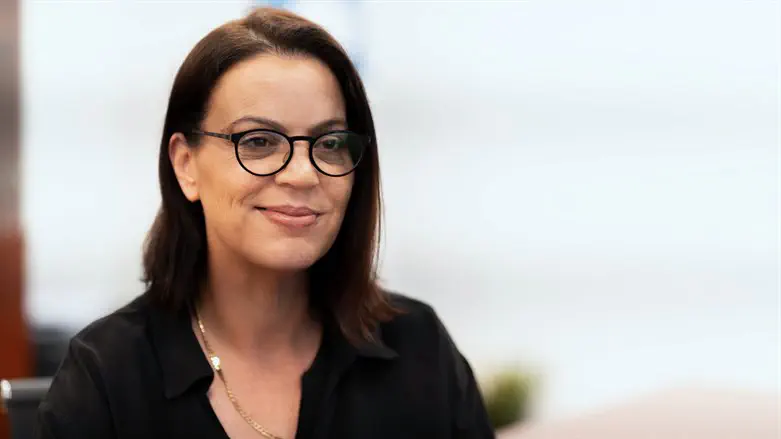 Galit Distel Atbaryan
Yosef Mizrachi/Israel National News
Information Minister Galit Distel Atbaryan (Likud) on Sunday announced her intention to go to synagogue for Yom Kippur services.
In a post on X, formerly Twitter, the minister added a request for forgiveness if she offended any of the users on the social media site, concluding with wishes of Gmar Chatima Tova.
"This year I did not purchase a new book or board games for the family so that the fast would pass quickly. This year I asked my parents to reserve a seat for me in the synagogue in the Jerusalem neighborhood where I grew up. There, I will pray next to my mother and daughter and look down on my father and brother and ask God for forgiveness," wrote Distel Atbaryan.
"But the essence of this day is not between a person and God, but between a person and his friend. That's why I'm standing here in front of you all, or rather tweeting here from the sofa in my living room, and asking for forgiveness from the bottom of my heart if I hurt any of you during the past year," she added.
Distel Atbaryan also wrote, "I wish we would be better to each other this year, I for my part definitely intend to try. I wish I will succeed."
In conclusion, she wished "a beneficial fast, Ktiva V'Chatima Tova to the eternal nation, Amen. And again, [I ask for] forgiveness."
On Yom Kippur, many secular Israelis observe the fast but do not always attend synagogue as religious Israelis do, choosing instead to spend time with family and friends, or to engage in leisure activities, most commonly hiking or biking. Secular Israelis traditionally do not drive on Yom Kippur.
(Israel National News' North American desk is keeping you updated until the start of Yom Kippur in New York. The time posted automatically on all Israel National News articles, however, is Israeli time.)