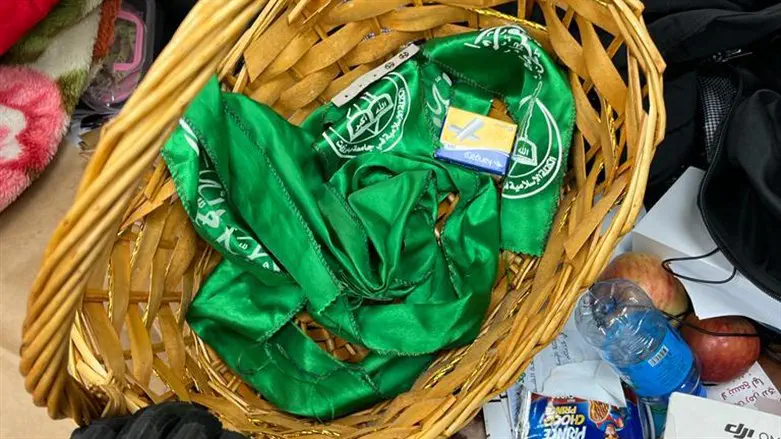 Hamas flag foundin possession of detainees
IDF spokesperson
Over the last few months, the IDF and the Shin Bet conducted intelligence and investigative efforts in order to thwart the activities of terrorist cells that consist of university students who operate in the Hamas terrorist organization cells, "the Kutla Islamia", that operate in universities in Judea and Samaria.
During this effort, a number of terrorist cells that are operating in the Birzeit University have been apprehended for investigation. During the Shin Bet investigation, it has been concluded that those operatives have been recruited by Hamas operatives from the Gaza Strip, and received guns and ammunition intended for carrying out terrorist attacks against Israeli targets.
Overnight (Sunday), in a joint IDF and Shin Bet activity, the forces apprehended eight wanted suspects who were hiding in the Birzeit University campus. According to the information known to the security forces, the wanted suspects were set to carry out terrorist attacks in the immediate time frame. An additional wanted suspect was apprehended in the area of the town.
During the counterterrorism activity, the forces located incitement materials consisting of Hamas terrorist organization flags and technological devices.
The suspects are believed to have plotted to carry out a serious terrorist attack in the near future, possibly on Yom Kippur.
The IDF stated: "This is another example of how the Hamas terrorist organization uses legitimate institutions in order to promote terrorist activities and serve as a refuge for these operations."
IDF soldiers also apprehended four wanted suspects in the town of Khirbat Karme.
The wanted suspects and weapons were transferred to the Shin Bet for further processing. No IDF injuries were reported.