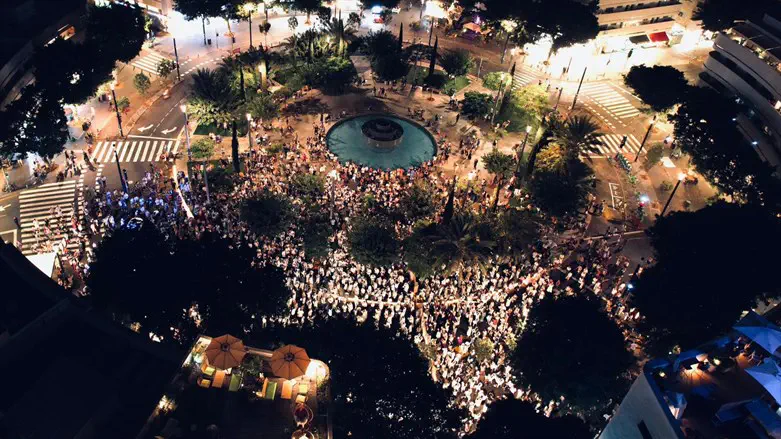 Yom Kippur prayers in Tel Aviv
Lior Chaim Berkovich
The head of the "Rosh Yehudi" movement, Israel Zaira, announced that despite the court's decision to forbid prayer with a partition between men and women in Tel Aviv - the organization will still hold Yom Kippur prayers in Dizengoff Square.
"After many consultations, we decided to hold the prayer in a way that is in keeping with the halakha (Jewish Law) and is in keeping with the law. It's as simple as that. The prayer in Dizengoff Square has already become a symbol of love and exciting unity and we are sure it will be like this this year too. And even more so," he wrote.
"The prayer in the square is open to everyone, without exception. We are sure that we will show respect for each other, for this holy day, and for the tradition of Israel.''
''We received tons of requests not to cancel, and a lot of support and warmth from the public. As a side note, we will say that last Shabbat unknown people stole the prayer book pages we printed for the songs after the prayer, but our answer will be more love and holiness in Tel Aviv. A handful of extremists will not succeed in harming you, the thousands who come to the square every year."
The District Court in Tel Aviv on Thursday rejected the petition of the Israel Liberty and Human Dignity Forum and supported the municipality's position against placing the customary partitions during prayers.
In the ruling, Judge Hadas Ovadia wrote: "The municipality does not dispute that those who wish to pray may do so throughout the city of Tel Aviv-Jaffa on Yom Kippur, and fulfill their right to religious freedom, are allowed to pray wherever they wish. However, the municipality disputes the claimed right of the petitioners to pray in Dizengoff Square in a gender-segregated manner by placing a partition in the public space, a partition whose very existence, placement, and nature is intended to obstruct and prevent free passage and movement in the public space, and to serve as a fence between men and women in the public space."
Lawyer Tsafnat Nordman, who represents the petitioners, wrote in response: "The court in the Jewish State prohibits a partition during Jewish prayer. The first ban on a partition in the Land of Israel since the British and the Mufti. I finished reading the verdict with tears in my eyes and a lump in my throat. What an insult. First of all, as a Jewish woman, then as a citizen of the State of Israel, finally as a lawyer."
According to her, "The verdict tramples on the fundamental wisdom of administrative and constitutional law, of the liberal system, and inflicts a severe, stinging injury on every Jew who is not yet completely alienated from his roots. It brings one to weep."