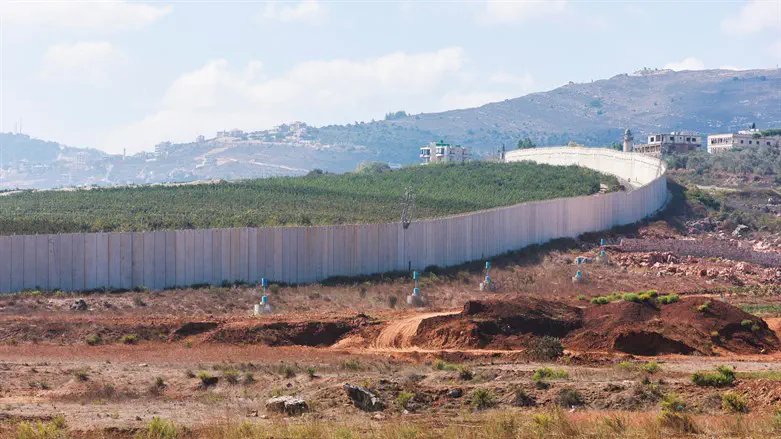 Israel-Lebanon border
Reuters
Lebanese media on Saturday reported that IDF forces fired smoke grenades at Lebanese soldiers who were accompanying a Lebanese bulldozer.
According to the IDF, the smoke grenades were fired towards the bulldozer, in order to distance it.
The IDF also said that the forces used riot dispersal methods against an engineering vehicle which had been identified by observation posts, after the vehicle's shovel crossed the Blue Line from Lebanon into the Mount Dov region. The vehicle retreated back to Lebanese territory.
The United Nations Interim Force in Lebanon (UNIFIL) responded: "We are at the scene and in contact with all of the sides, in order to reduce the tensions in southern Lebanon and prevent misunderstandings."
Earlier this year, Hezbollah military outposts that were illegally set up on sovereign Israeli territory were placed about 30 meters inside Israeli territory, and generators were placed there to allow Hezbollah terrorists to stay in the compound.
Israeli media reported later that Hezbollah evacuated one of the two tents but there was no confirmation from the group.
Initially, Lebanese MP from Hezbollah, Mohammad Ra'ad, refused the UN's request to remove the tents which were erected on Israeli territory, stating, "If the enemy doesn't want war, then it is better that it remains silent."
The IDF had initially contacted the UNIFIL peacekeeping force after the tents were placed in Israeli territory, but the UN peacekeepers did not arrive in the area. Only after diplomatic pressure, including from Israel's Ambassador to the UN, Gilad Erdan, did UNIFIL inspectors arrive in the area and verified that the tents were indeed inside the sovereign territory of the State of Israel.