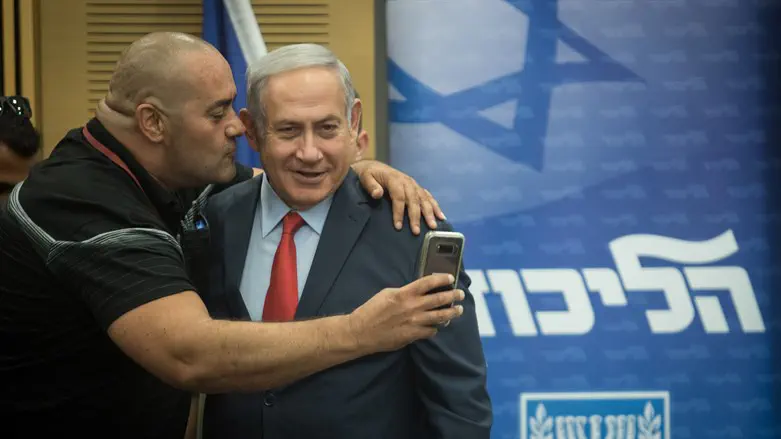 Zarka (left) and Prime Minister Netanyahu (right)
Hadas Parush/Flash90
The Likud tribunal on Friday rejected the petitions to remove Itzik Zarka, Moshe Miron and Rami Ben Yehuda from the movement.
Zarka apologized for his actions when he shouted at left-wing protesters, "I am proud of the six million burned," and pledged to help Holocaust survivors.
"The only circumstance worthy to some extent to be on the scales is the tireless activity of Itzik Zarka and his wife Hani in the service of the movement in difficult moments of public depression and despondency, as only a few virtuous individuals are entitled to be blessed in its magnitude and scope," the decision said.
Regarding Miron and Ben Yehuda, the tribunal commented: "A detailed examination of the claims made by the petitioner against the two shows that they are all firmly anchored in the principle of freedom of expression and are very far from creating grounds for exclusion."
Earlier, MK Tally Gotliv wrote "I plead not to remove any Likud activist from the party!! Certainly not the one who apologized for his words that were said in anger. Itzik Zarka and Rami Ben Yehuda have been working in the field for many years for the benefit of the Likud. Leave it to the left to settle scores. The Likud knows how to condemn offensive statements by its members just as it forgives those who go back on their words."
Opposition leader MK Yair Lapid commented, "Instead of asking for forgiveness just before Yom Kippur and in the midst of a huge rift in the nation, the Likud spits in the faces of hundreds of thousands of Holocaust survivors and welcomes back one of the leaders of the poison machine."
"The Likud of the past would not have called Zarka a 'singular asset.' Shame on you!"