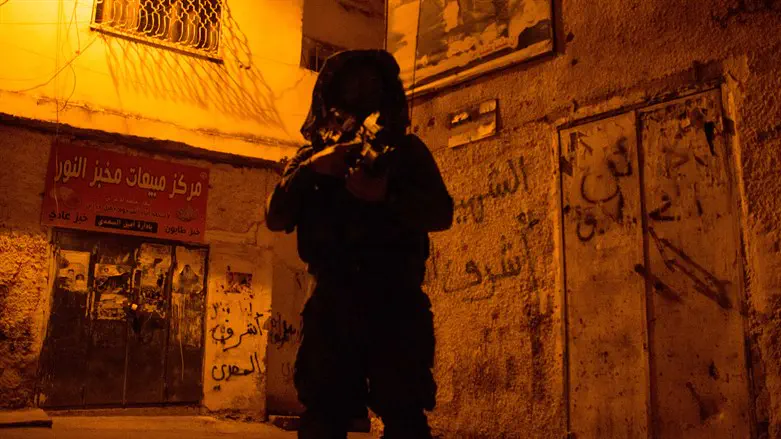 Counterterrorism operations (illustrative)
IDF Spokesperson/Flash90
IDF, ISA and Israel Border Police forces on Thursday night conducted counterterrorism activities in Judea and Samaria.
The forces apprehended four wanted suspects in the towns of Azaria, Al Mughayyir, and Beit Ula, and in the city of Shechem (Nablus).
In Beit Ula, the forces located and confiscated two "Carlo"-style improvised weapons.
During activity to search for weapons in the town of Kafr Dan, suspects opened fire and hurled an explosive device at the forces, who responded with live fire. A hit was identified. Damage was caused to military vehicles. In addition, an explosive device was located and disarmed.
Additionally, on Thursday, assailants opened fire at IDF soldiers who were near a cistern adjacent to the community of Avnei Hefetz.
No injuries were reported and no damage was caused. The soldiers responded with live fire toward the source of the shooting. Following searches, shell casings were found. IDF soldiers opened a pursuit after the assailants.
The wanted suspects and weapons were transferred to security forces for further processing. No IDF injuries were reported.