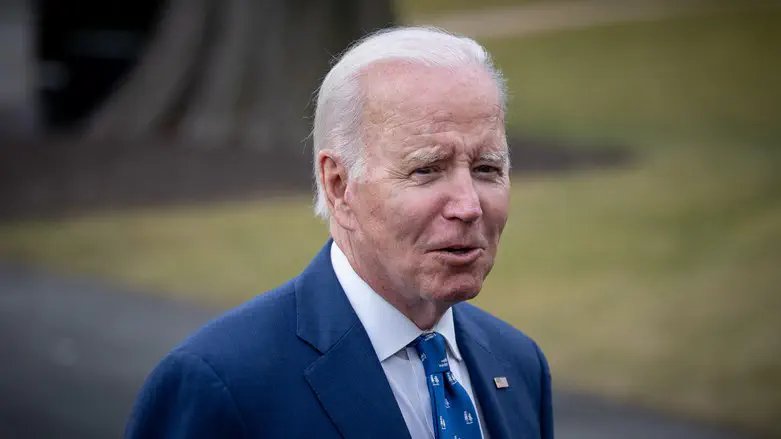 Joe Biden
Arie Leib Abrams/Flash 90
A bipartisan group of more than two dozen nuclear and Middle East experts sent a letter to US President Biden on Thursday urging him not to allow Saudi Arabia to have a uranium enrichment program on its soil, according to the letter first shared with Axios.
According to the report, the 27 experts who signed the letter say they support normalization but think the kingdom doesn't need uranium enrichment to produce peaceful nuclear energy.
"We urge you to reject the Kingdom of Saudi Arabia's request for uranium enrichment as part of or separate from a normalization agreement between Saudi Arabia and Israel," they wrote.
The experts stressed that uranium enrichment on Saudi soil could bring Saudi Arabia to the brink of acquiring nuclear arms, a reality US policy should keep from happening.
Signatories to the letter include several former US officials who served under both Republican and Democratic administrations and worked on nuclear or Middle East issues.
They also include David Albright, one of the leading nuclear experts in the world, Olli Heinonen and Pierre Goldschmidt, both former deputy director generals of the International Atomic Energy Agency, and Prime Minister Benjamin Netanyahu's former national security adviser, Jacob Nagel.
The letter was co-organized by the Nonproliferation Policy Education Center and the Foundation for the Defense of Democracies (FDD), a Washington think tank that holds pro-Israeli views, according to Axios.
In the letter, the experts also said that even if the enrichment facility in Saudi Arabia is operated by Americans, it will pose "an unacceptable proliferation risk, particularly given Crown Prince Mohammed bin Salman's public comments on nuclear weapons".
The experts added that allowing Saudi Arabia to have uranium enrichment capability like Iran could trigger a regional nuclear arms race.
"Any nuclear cooperation agreement with Saudi Arabia must meet the highest non-proliferation standards and enhanced inspection and transparency measures through a strong Additional Protocol with the International Atomic Energy Agency," they wrote.
The letter comes as negotiations continue on a deal between the US, Israel and Saudi Arabia which would see Saudi Arabia normalize ties with Israel. The Saudi demand for a civilian nuclear program that includes uranium enrichment is the most complicated and sensitive part of the deal.
On Thursday, The Wall Street Journal reported that Israeli officials are quietly working with the Biden administration on a proposal to set up a US-run uranium-enrichment operation in Saudi Arabia.
According to the report, Netanyahu directed top Israeli nuclear and security specialists to cooperate with US negotiators as they try to reach a compromise that could allow Saudi Arabia to become the second country in the Middle East, after Iran, to openly enrich uranium.
Saudi Crown Prince Mohammed bin Salman commented on the negotiations in an interview with Fox News which aired on Wednesday.
"Every day we get closer, it seems it's for the first time real one serious. We get to see how it goes," he said, adding his country could work with Israel, no matter who is in charge and calling a potential deal "the biggest historical deal since the end of the Cold War."
When asked about the potential for Iran to obtain a nuclear weapon and what it means for Saudi Arabia, the Crown Prince reiterated statements he made in the past, saying that should Iran ever obtain such a weapon, Saudi Arabia would "have to get one, for security reasons, for balancing power."
"We are concerned if any country getting a nuclear weapon: That's a bad, that's a bad move," he said. "They don't need to get nuclear weapon because you cannot use it."
"Any country using a nuclear weapon that means they are having a war with the rest of the world," added bin Salman. "The world cannot see another Hiroshima. If the world sees 100,000 people dead that mean you are in a war with the rest of the world."