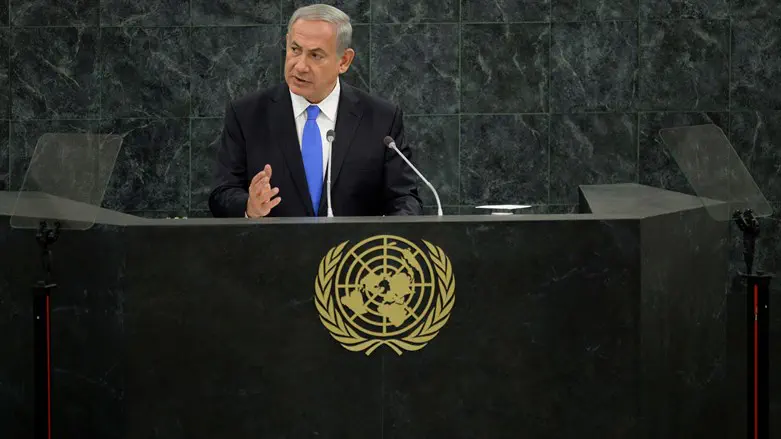 Netanyahu at the UN
Flash 90
Prime Minister Benjamin Netanyahu took with him to the UN General Assembly an archaeological find from the Tel Jericho archaeological site, which was declared a "Palestinian heritage site" by the UNESCO organization last week.
It is still unclear whether Netanyahu will use it during his speech tomorrow (Friday) at the General Assembly, but Israel National News - Arutz Sheva has learned that at the last cabinet meeting, Netanyahu requested - in light of a heated discussion with several ministers on the issue - to receive a position paper representing the Israeli position which considers the UNESCO decision to be an injustice which ignores the facts on the ground and the history of ancient Jericho. He also requested an ancient artifact that demonstrates the Jewish people's historical connection to the site.
Heritage Minister Amichai Eliyahu handed over to the Prime Minister a detailed position paper to which he attached an ancient historical artifact that testifies to the connection between the people of Israel and its land.
Minister Eliyahu stated that he intends to meet with UNESCO officials in order to prevent the destruction of the Jewish people's heritage throughout Jericho. This is alongside the decision to invest hundreds of millions of shekels for the development and preservation of the heritage sites in the area and all over Judea and Samaria.
"Our heritage is our national strength, and we have no intention of giving it up, the attempt to invent a legacy for an invented nation will not succeed," the minister said.
The Prime Minister's Office did not provide an answer to the question of whether the issue of the UNESCO decision was part of the conversation between Netanyahu and UN Secretary-General Antonio Guterres at their meeting last night. During the meeting, Netanyahu criticized the unilateralism of the United Nations in many cases - but the announcement published by his office did not mention the UNESCO decision.