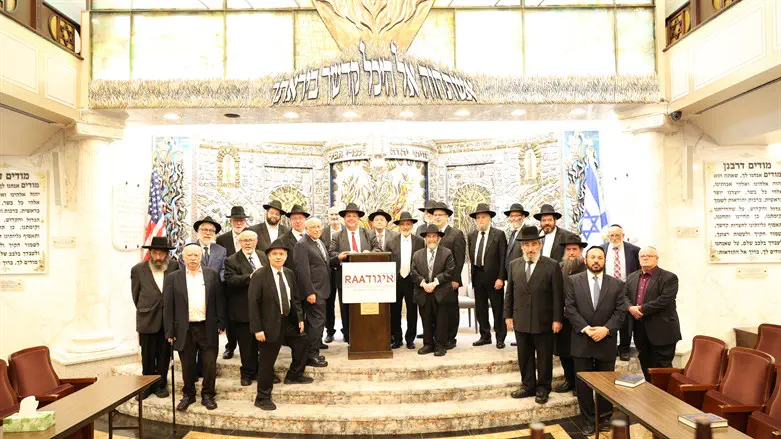 A group photo of some of the Rabbis in attendance at the 35th Annual Chai Elul S
Rabbinical Alliance of America
On September 5, 2023, the Rabbinical Alliance of America/Igud HaRabbonim (RAA/Igud) celebrated its 35th annual Chai Elul Siyum HaShas and 81st annual dinner at the famed Sephardic and Lebanese Congregation under the guidance of its esteemed and venerable Mara D'atra, Rabbi Eliyahu Elbaz. The theme of the evening was "Rabbis helping rabbis help the community." Speaker after speaker discussed the various ways in which RAA/Igud supports its nearly 1,000 member rabbis who are busy serving the community in shuls, schools, hospitals, law enforcement, the armed forces and every other conceivable rabbinic position.
Since 1988, on the recommendation of Rishon LeTzion HaGaon HaRav Mordechai Elliyahu, to its then President, Rabbi Abraham Hecht, ZT'L, the RAA/Igud has made the Chai Elul Siyum HaShas a yearly tradition. Unfortunately, Rabbi Meir Shapiro, ZT'L, the Chairman of the RAA/Igud who was to serve as the inaugural Chai Elul Siyum HaShas Chairman passed away shortly before the first siyum. His son R' Pinny Shapiro and family have been sponsoring the annual Chai Elul Siyum HaShas in his memory. Sadly, since the passing of Rabbi Shapiro's Rebbetzin, Rebbetzin Pearl Yita Shapiro, three years ago, the Chai Elul Siyum HaShas is sponsored now by R' Pinny Shapiro and family in her memory as well.
The following rabbonim spoke at the Siyum HaShas: Rabbi Pesach Lerner, chairman, Eretz HaKodesh, served as Siyum HaShas chairman; Rabbi Shimon Silver, rabbi of Young Israel of Greater Pittsburgh, made the Siyum HaShas; Rabbi Leibel Wulliger, rosh ha'kollel, Nachlas Dovid, Yeshivah Torah Vodaath, made the haschalas haShas; Rabbi Eluzer Nissan Rubin, maggid shiur, Klausenburg and Radomsk, Brooklyn, NY, gave an erudite Dvar Halacha in honor of the Siyum HaShas; Rabbi Ya'akov Shulman, presidium member, RAA/Igud, spoke about the rabbinic services offered by RAA/Igud; Rabbi Yehuda (Leonard) Blank, vice president of Professional Development and External Affairs, RAA/Igud, spoke about the continuing learning opportunities the organization has offered over the past year and new initiatives planned for the new year.
At the 81st annual dinner, Hon. Mark T. Stewart, NYPD Deputy Commissioner of Community Affairs, was honored by receiving the Distinguished Public Safety Leadership Award. Inspector Richard S Taylor, Commanding Officer, NYPD Community Affair Bureau; Rabbi David Heskiel, Clergy Liaison, Community Affairs Bureau, NYPD; and Dr. Jack Husney, Honorary Surgeon, NYPD were the recipients of RAA/Igud honor certificates recognizing their contributions to public safety. Rabbi Mendy Mirocznik, in presenting Commissioner Stewart the RAA/Igud's Distinguished Public Safety Leadership Award, stated, "If you want to be successful as a police officer then please follow the footsteps of Commissioner Stewart who is the personification and definition of what quality policing is all about. Commissioner Stewart is a great role model to follow and his imprint on the city is indelible and everlasting. The decrease in crime and the great confidence in the NYPD is by no small measure thanks to the herculean efforts of Commissioner Stewart. We at the RAA/Igud look forward to our continued partnership with Commissioner Stewart and we are confident the best is yet to come."
After the awards ceremony, Rabbi Yosef Yitzchok Serebryanski, Rosh Kollel Ayshel Avraham Zichron Yaakov Rabbinical Seminary; Rabbi Yaakov Klass, Rosh Kollel Ayshel Avraham Zichron Yaakov Rabbinical Seminary, and presidium chairman, RAA/Igud and Torah Editor the Jewish Press, together with Rabbi Moish Schmerler, Executive Director/ Menahel RAA/Igud and 81st Celebration chairman, awarded semicha to Rabbi Dr. Mark Horowitz, ZT'L, Rabbi David Toback and Rabbi Garry Kopstick. The Kollel Ayshel Avraham Rabbinical Seminary was founded by Rabbi Yaakov Spivak, ZT'L, who passed away on March 17, 2021. Unfortunately, prior to Rabbi Spivak's passing, he was unable to award semicha to these worthy rabbis. Formally, the Kollel was renamed Ayshel Avraham Zichron Yaakov Rabbinical Seminary in his memory. As a testimony to the continuation of the Kollel, these semicha awards were presented at the 81st annual dinner of the RAA/Igud where Rabbi Spivak,, is fondly remembered and where he served as a presidium member.
Rabbi Yehoshua S. Hecht, presidium member, RAA/Igud, and rabbi of Congregation Beth Israel Chabad in Norwalk, CT, served as the convocation chairman and presented the Igud HaRabbonim's Convocation Resolutions for 5784.
#1) RESPECTING THE AUTONOMY OF YESHIVA EDUCATION
"Do not touch My anointed ones, and do not harm My prophets. (Psalms 105:15) "Anointed Ones" these are the children studying the Torah at School (Talmud Shabbat 119:2)
The Rabbinical Alliance of America – IGUD calls upon the City of New York and the Department of Education to cease and desist from all actions aimed at meddling with the educational curriculum in use at yeshivas and day schools throughout the five boroughs.
The separation of religion and state and the freedom for parental choice as it pertains to a child's schooling and education, is a sacrosanct and inviolable right, and deserving of regard.
We call upon the New York City Council to legislate all possible financial support i.e., busing, school lunch programs, grants for facility enhancements, security, etc. to these schools that are independently educating law-abiding and productive citizens.
Equal access funding for religious educational institutions is of benefit to all New Yorkers. The percentage of criminality and anti-social behavior among the tens of thousands of students of yeshivah day schools are miniscule.
Let us recognize the fact that the significant majority of yeshivah students go on to build productive lives and communities, are law-abiding citizens, embrace family values, all essential for a strong, secure, and practical society.
#2) A CALL TO JEWISH FEDERATIONS TO INCREASE FINANCIAL SUPPORT OF JEWISH DAY SCHOOLS & HIGH SCHOOL INSTITUTIONS
The RAA/Igud applauds the vital work and philanthropy of the UJA Federation of Greater New York. Much good is being conducted every day, by Federation's social welfare programs, in aiding the poor, people with disabilities and the disadvantaged.
In prior annual convocations, the Rabbinical Alliance of America/IGUD– called on JEWISH FEDERATIONS across the country to at once increase their budgetary support of YESHIVA DAY SCHOOL institutions by a minimum of 30%.
At last review, UJA of Greater New York, with hundreds of millions available in budgetary and philanthropic disbursements, has lagged significantly in supporting new funding and or budgeting seed monies, in support of the expanding Yeshiva Day School movement within the New York metro area.
#3) IN SUPPORT OF THE CHIEF RABBINATE OF ISRAEL
The Rabbinical Alliance of America – Igud Harabonim reiterates their wide-ranging support of the institution and office of the Chief Rabbinate of Israel headed by the venerable Chief Rabbi HaGaon Rav Dovid Lau and the venerable Chief Rabbi HaGaon Chacham Yitzchak Yosef; may they continue to lead Israel and the Jewish people in good health and success.
It is of necessity that the Chief Rabbinate remain the exclusive authority of all matters of GIYUR (conversion) and matters of religious identity and personal status, MARRIAGE & DIVORCE, as well as all matters of KASHRUTH as codified in the Code of Jewish Law – Halacha.
The time hallowed and established heritage and customs of our people (Halacha) serves to unite and preserve the unity and integrity of the Jewish people of all backgrounds and levels of observance. In fact, these standards continue to unite the world Jewish community and keep at bay, assimilation and intermarriage.
#4) RESPECTING THE DEMOCRATIC ELECTION RESULTS BY ISRAEL'S CITIZENS
With alarm and consternation, the RAA/Igud calls upon our brethren the citizens of Israel to respect the last National Election results and cease the far-reaching demoralization of Israeli society by the incessant and unrelenting civil demonstrations, which impede the functioning of daily life, and freedom of movement during the workweek.
We believe that the current fractionalization is resulting in an uptick of acts of terror affecting Israel throughout its borders. The dangerous and irresponsible calls for civil disobedience in support of an independent judiciary are having the opposite result.
It is not the purview of the RAA to interfere in political matters within Israel, however it is in the area and responsibility of the RAA/Igud to call for a cessation of these harmful and polarizing demonstrations that do not allow the government to focus on security and welfare for all its citizens.
We believe that change is brought about through fair elections and not through the demonization of CHAREIDIM and Torah observant Jewry.
#5) A CALL FOR A MOMENT OF SILENCE IN ALL U.S. PUBLIC SCHOOLS
The RAA/Igud reiterates its call to the administration and the Department of Education to support a Nationwide directive for a Moment of Silence at the commencement of each school day — helping teachers and students, to silently reflect on the Creator and faith in a Higher Being.
This will aid all citizens to lead a more exemplary life, resulting in respect and caring for others; knowing that there is an "Eye that Sees and an Ear that Hears" all our deeds and words.
As Rabbis and spiritual leaders of communities throughout the USA, we call for the Moment of Silence to be held at all public educational institutions beginning with elementary through University and College level, assuring the wellbeing of our children and adults.
#6) RECOGNITION OF THE ERETZ HAKODESH WORK in ISRAEL & DIASPORA
As the Rabbinical Alliance of America, marks its eighty-first anniversary since its founding in 1942-5702, we express thanks to the Creator for all His kindnesses.
We are thankful that our esteemed member Rabbi Pesach Lerner, has done and continues to conduct yeoman contributions to American and Israeli Jewry, through his work within the ERETZ HAKODESH SECTOR of the Jewish Agency. We wish him continued success in these endeavors.
#7) RECOGNITION OF THE COALITION OF JEWISH VALUES
The RAA/Igud wishes to applaud the effective work of the CJV (Coalition of Jewish Values) a national organization being the voice of twenty-five hundred orthodox rabbis, chaplains, and educators (many of them members of the RAA) who serve with diligence coast to coast in these great United States of America.
We are especially thankful that our member Rabbi Yaakov Menken, has reached a most visible national profile, on legacy media, and on social media, standing for the Jewish View on every major social issue affecting America and the world. Through the work of CJV the views of Torah and our sacred traditions are being heard by millions of citizens and by our elected officials in Washington, D.C. and throughout the country. From gender fluidity issues to traditional family values, the CJV is doing a KIDDUSH HASHEM, and we wish them ever growing success.