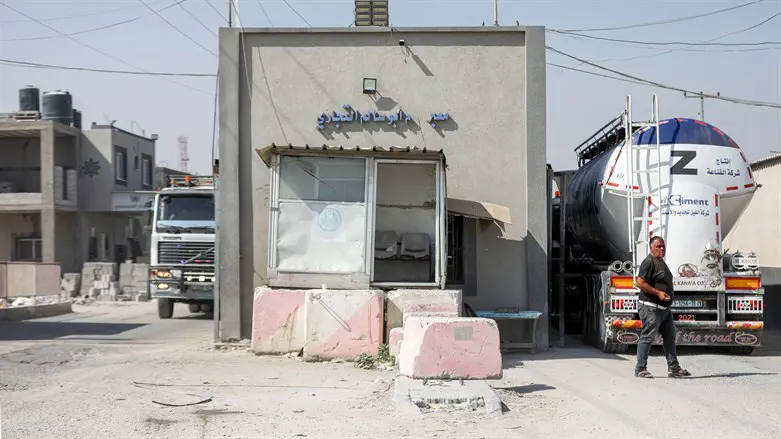 Kerem Shalom crossing
Yousef Mohammed/Flash90
The Shin Bet has revealed that the suspects who attempted to smuggle arms from the Gaza Strip through the Kerem Shalom crossing two weeks ago are two terrorists who were released in the 2011 Gilad Shalit prisoner swap.
The Shin Bet investigation found that the smuggling operation was executed under the instruction of the Hamas terror organization in the Gaza Strip.
The explosives were discovered by Ministry of Defense Crossing Authority security inspectors while inspecting goods from the Gaza Strip, which arrived in three trucks.
The high-quality C4 explosives, weighing several kilograms, were hidden among international designer clothing.
חומר הנפץ
צילום: רשות המעברים במשרד הביטחון
The investigation into the incident found that the goods were sent by a Gazan shipping company named Alqusiya, which generally transports goods from the Gaza Strip to the Kerem Shalom Crossing.
In addition, a Gaza resident named Mi Mansour was found to be involved in sending the goods.
It was also found that Arafat Natshe, originally from Hebron, and Mohamed Abu Awad, originally from Shechem, who were deported to the Gaza Strip as part of the Shalit prison swap deal, were involved in the smuggling the explosives.
It was estimated that these connections show that the two were involved in sending the cargo, and it points to the deportees and Hamas' "West Bank Headquarters."
The explosives were active, and in the wrong hands, they could be used in a terrorist bombing attack.
A security official stated: "The cynical exploitation of the trade route from Gaza by Hamas directly hurts the makeup of normal life of the residents of Gaza, Judea, and Samaria. Those same civilians are those who pay the heavy and immediate price when the crossing closes, the financial harm that results from it, and the difficulty in receiving a permit for future transports."