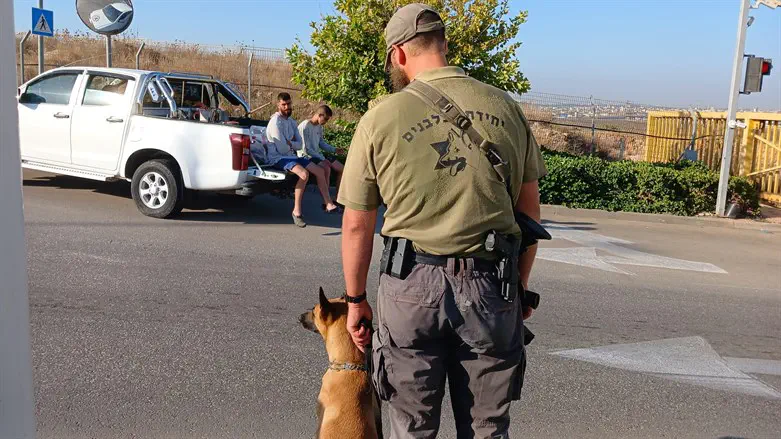 IDU volunteer detains suspects in Tzur Yitzhak
IDU
The Israel Dog Unit (IDU), a nonprofit specializing in security dogs, today conducted a special operation to deter and apprehend illegal infiltrators from the Palestinian Authority in the city of Tzur Yitzhak in central Israel. The operation included forces from the ISA, IDF, Israel Police, and the civilian security team of Tzur Yitzhak.
During the operation, several suspects were detained, including a group attempting to enter via gaps in the city's security fence and others attempting to enter with false identification or work permits.
IDU volunteers used working dogs and advanced drones to locate and apprehend the suspects, transported suspects for further questioning by security forces and gathered intelligence on the routes used by illegal infiltrators to circumvent the city's security mechanisms.
Tzur Yitzhak has benefitted from the IDU's help in the past, when Nala, an IDU working dog that accompanies the city's civilian security coordinator, discovered and apprehended another group of infiltrators. The infiltrators, known colloquially as shabahim in Israel, are frequently found to be either seeking employment without a permit or engaging in smuggling activities.
N., the civilian security coordinator of Tzur Yitzhak, says that shabahim are considered a real threat by security forces: "They wait until they think they are alone, cut holes in the fence, and come in. Some have criminal records or are wanted by the ISA. Every one of them must be considered a terrorist until we have thoroughly searched him and determined that he is not a threat.'"
N. praised the operation as a success. "Today's operation led to both the arrest of several suspects and the deterrence of others who use the same routes. This is of particular importance with the heightened tensions surrounding the High Holy Days and the sensitive security situation along the border with the Palestinian Authority."