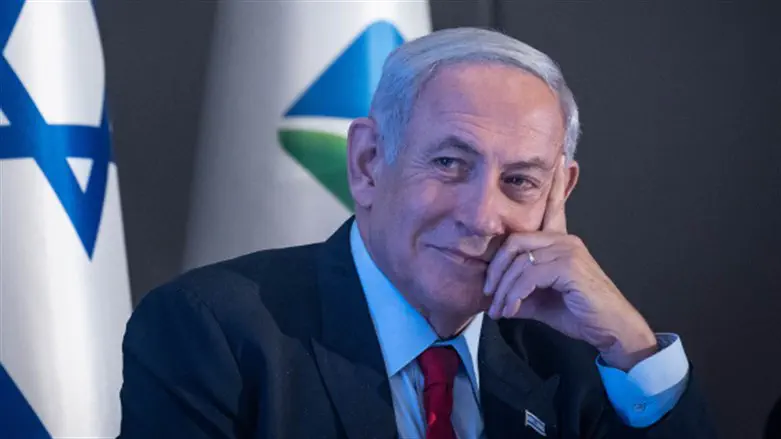 Benjamin Netanyahu
Chaim Goldberg/Flash90
The Likud party published a clarification notice on Monday night in which it was stated that Prime Minister Benjamin Netanyahu "has not scrapped the judicial reform at all."
The announcement was issued after it was claimed that during Netanyahu's meeting with billionaire Elon Musk, he said that Justice Minister Yariv Levin's original proposal for judicial reform was "bad" and added that if no agreements were reached, only minor changes would be made to the composition of the Judicial Selection Committee.
Likud representatives added that "during Netanyahu's meeting with Elon Musk, he referred only to the Override Clause by a simple majority, which the heads of the coalition already agreed on months ago, according to which the balance with the courts could be achieved in other ways."
Netanyahu and Musk held a joint conversation that was broadcast live and in which they discussed, among other things, the judicial reform in Israel.
Musk referred to the demonstration against Netanyahu outside the Tesla factory: "As you can see, there are protests against the judicial reform, and honestly, many also opposed this interview. Maybe you could address the judicial reform." Netanyahu replied: "This is a great opportunity to tell people what they are protesting against, because I think that many of them don't know. Efforts are being made to hide it."
"Israel was and always will be democratic. Its character changed three decades ago, the balance was changed, and we currently have the most activist legal system in the world. Democracy is supposed to be about checks and balances. In Israel this doesn't exist – there is only power. So now there is a demand to restore the balance."
Netanyahu referred to the original legislation proposed by Justice Minister Yariv Levin: "There was a proposal, which I thought was bad, to do away with one imbalance by introducing another imbalance. I thought it was a mistake to move the pendulum from one side to another. I have a majority in the Knesset to legislate everything, but I am trying to reach a consensus."
Netanyahu added: "If I can't do it with the other side, I can do it with the public. Many agree with the small changes, especially the selection of judges. They are good people, but they replaced the government. They decided about everything – but they were not elected. This is not a democracy. There is tension between the authorities and this needs to be resolved somewhere in the middle, not by the extreme sides. Israel was a democracy and will be a stronger democracy after the changes."