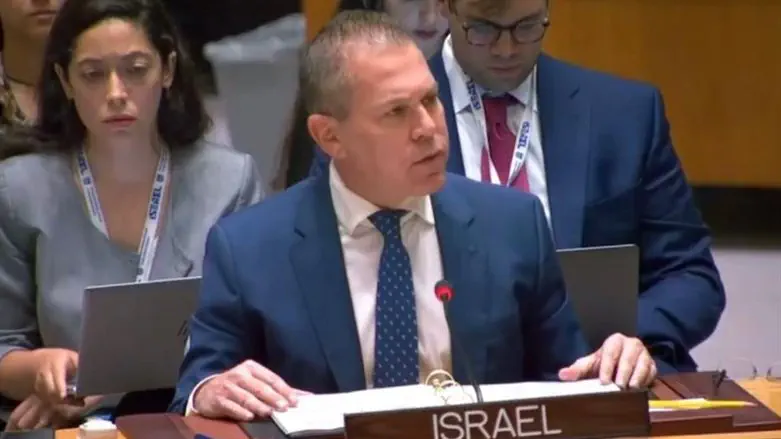 Gilad Erdan addresses the UN
Erdan's office
Israeli Ambassador to the UN Gilad Erdan condemned the demonstrations that are scheduled in the United States ahead of Prime Minister Benjamin Netanyahu's visit.
"The issues won't be decided here in the UN, where the Israel haters are. It will only get their attention. I have no problem that people are protesting. We want to maximize Israeli diplomacy. Here, in the UN, this week, it is not the place," the Ambassador said in an interview with Kan Reshet Bet.
He noted that "Israeli citizens can demonstrate where things are decided, in Israel. US Jews can also influence Israeli politics where things are decided."
Edan predicted that the Prime Minister and the US President will meet again in the near future at the White House. "The meeting will take place at the President's hotel, I assume there will also be a meeting at the White House."
He was asked about the meeting between the Prime Minister and billionaire Elon Musk and answered: "There is great potential for a partnership with one of the main players in this field. I'm sure the Prime Minister will bring up the serious problem of the publication of antisemitic content by Twitter and will ask Musk to work much more so Twitter doesn't allow such content. He doesn't necessarily agree with everyone he meets with."
Regarding reports that the normalization negotiations between Israel and Saudi Arabia are slowing down, the Ambassador says: "We don't know of such a Saudi delay regarding including Israel in the deals. I believe there's a good chance of reaching such a deal, but it's a question that the political level will have to decide on and set its agenda.