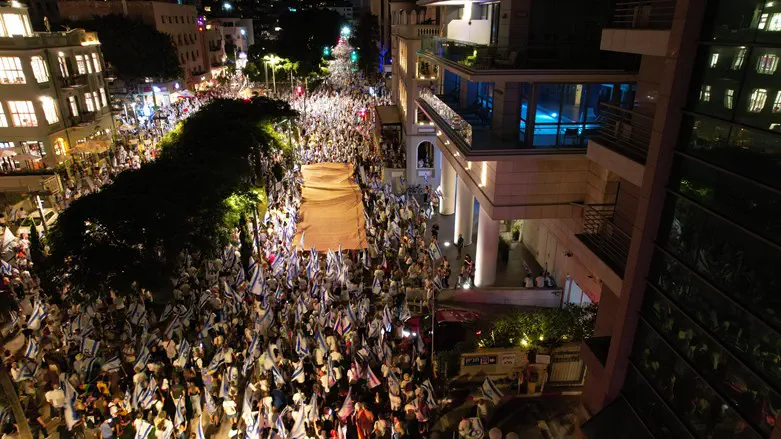 Anti-government protesters in Tel Aviv
Eitan Slonim, Kaplan Protests
Thousands of people protested the government this evening (Sunday) in Tel Aviv. The protesters left Rothschild St. and began marching to Kaplan St.
Later in the evening, they intend to travel to Ben Gurion International Airport, ahead of Prime Minister Benjamin Netanyahu's departure to the United States.
"At around midnight, the Prime Minister will take off ahead of the UN general assembly," the protest organizers stated. "Before he meets the protesters who are waiting for him on both the West Coast and the East Coast, we will come to send him off at Ben Gurion Airport to remind him that Israel won't be a dictatorship."
Anti-government protesters wait for Prime Minister Netanyahu at Ben Gurion Airport:
מחאת קפלן ממתינה לראש הממשלה בנתב"ג
ברק דור
The Ben Gurion Airport management held a discussion to prepare for the left-wing protests, and it was decided that the airlines would open their check-in counters earlier for the travelers' convenience. In addition, train traffic to the airport will be increased.
The Israel Airports Authority emphasized that "Ben Gurion Airport is an area with high operational sensitivity, which pertains directly to human life and therefore the roads to and within the airport can not be blocked."
Central District Police Commander Avi Biton clarified that the police will not allow demonstrations inside the terminal, and any disturbance would be tended to with a strong hand.
He instructed the officers to ensure that routes remain open in accordance with the emergency needs and so flights depart on schedule.
"Demonstrations will not be permitted inside the terminal. Any disturbance will be enforced increasingly, and when the Airports Authority provides an approved complex for gatherings, the location will be published by them," Biton stated.
"The police call on travelers to arrive early, and emphasize to those coming to demonstrate: show responsibility and keep the routes in the airport and the terminal available to the emergency and rescue authorities," the police stated.