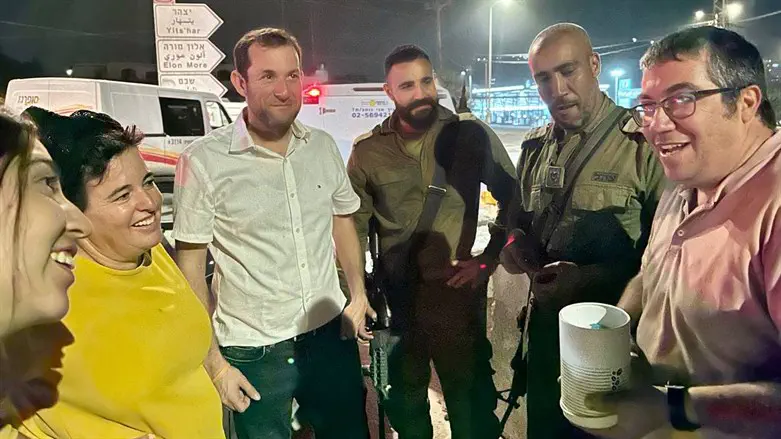 The Yaniv parents give out food to soldiers in Huwara
Roi Hadai
Esti and Shalom Yaniv, the parents of terror victims Hallel Menachem and Yagel Yaakov Yaniv, who were murdered in February in a shooting attack in Huwara, arrived at the scene of their sons' murder and handed out food and sweets to IDF soldiers serving in Huwara. The bereaved parents' act of generosity comes days after the latest terrorist shooting in the Arab town.
The two invited the chairman of the Samaria Regional Council, Yossi Dagan, to join them in distributing the food to the soldiers.
While presenting food and sweets to each and every soldier protecting Israelis in Huwara, the couple thanked them for their service and asked about their well-being.
Shalom Yaniv said: "Ahead of Rosh Hashanah, and with the end of the most difficult year we've had, we decided to take the strength we managed to accumulate and our pain to this place to connect and strengthen [the soldiers'. The heroic soldiers who are there are doing holy work so that the pain will stop coming from this place, and we are here to express our thanks and appreciation, and the smiles on their faces also gave us more strength to continue onward."
Samaria Regional Council chairman Yossi Dagan said: "It's moving to see the heroes Esti and Shalom hugging the soldiers, in the same place where they lost Hallel and Yagel. We all salute our soldiers on the eve of Rosh Hashanah and embrace them, the IDF is the settlements and the settlements are the IDF."