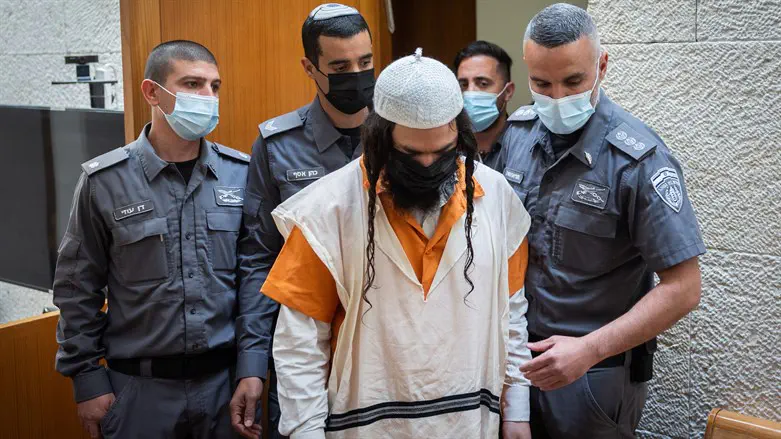 Amiram Ben-Uliel
Yonatan Sindel/Flash90
The Israel Prison Service (IPS) informed Amiram Ben-Uliel that he will be transferred to the religious wing of his prison for Rosh Hashanah, the Jewish New Year.
Ben-Uliel was convicted of the murder of three members of the Dawabsha family, including a baby, in an arson attack in Duma in 2015. Supporters of Ben Uliel maintain that he is innocent and his confession was obtained through torture. He has spent the majority of the years since the murders in solitary confinement, leading to a campaign to improve his prison conditions.
The 'Justice for Amiram' protest organization published a statement saying that its activists "would like to thank from the bottom of our hearts National Security Minister Itamar Ben-Gvir, who fought for justice and equality and for Amiram's rights, MK Limor Son Har-Melech, who works on this night and day and has supported the headquarters since its inception, as well as all the MKs, public figures, rabbis, professors, and the countless citizens who stood up against the libels and demanded that they be stopped."
"Amiram was moved to the religious wing for the High Holidays, but this is only the beginning. We will not rest or be silent until Amiram has a fair trial in which the discussion will be based on real evidence and not on confessions extracted under torture. Until there is a fair trial for Amiram, we will demand his permanent transfer to the religious wing instead of merely for holidays," the movement added.
Shin Bet Director Ronen Bar claimed in a letter to Prime Minister Netanyahu and Minister Ben-Gvir that the reason Ben-Uliel remains in solitary confinement is that he is seen as a "role model" for Jewish extremists in the prisons.
"Intelligence we received about him, after his imprisonment, shows, among other things, that even during his incarceration, Ben-Uliel was in contact with extremist activists and he serves as a role model for those activists," Bar wrote.
"The Israel Prisons Service does not have a security wing for Jewish prisoners, and therefore the service meets the requests of Jewish prisoners to serve their sentence in the religious wing while keeping to the limits that come with them being security prisoners.
However," Bar added, "Amid Ben-Uliel's circumstances and the intelligence that was received about him, we can not answer his requests in this regard due to his influence on others."
Still, Bar clarified that the Shin Bet would not express opposition to transferring Ben-Uliel to a religious cell for Rosh Hashana and Yom Kippur, and this transfer was approved: "It should be clear that if a request is submitted by the prisoner to stay in the religious wing during Rosh Hashana and Yom Kippur, the organization would not express opposition, similarly to our opinion regarding Ben-Uliel's stay in the religious wing last Passover."