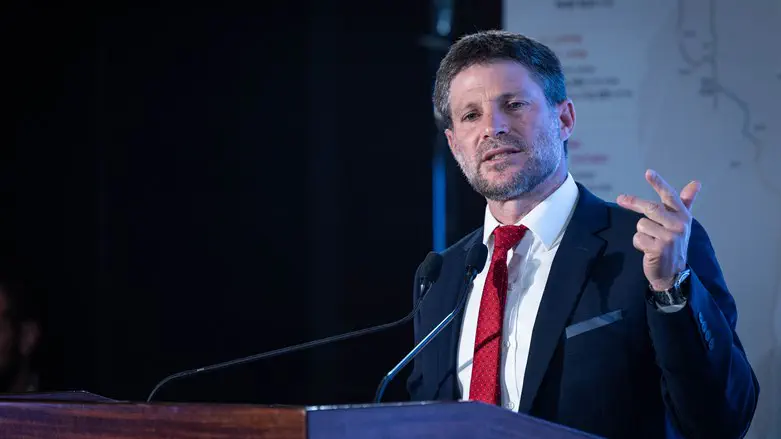 Bezalel Smotrich
Chaim Goldberg/Flash 90
Finance Minister Bezalel Smotrich is under fire from critics due to his steps to strengthen the Jewish presence and governance in Judea and Samaria.
In addition to his role as Minister of Finance, Smotrich also serves as a Minister in the Defense Ministry and has the majority of control over the Civil Administration, which oversees civilian affairs in Judea and Samaria.
Since taking that role, Smotrich has moved to approve thousands of new housing units in Judea and Samaria and reduce the approval time for new construction in the area.
An article in The Associated Press on Thursday quoted various opponents of Smotrich who warned that his actions could cement what they see as Israel's "occupation" of the area.
"If Smotrich keeps this position for four years we will be at a point of no return," said Ilan Paz, former head of the Civil Administration.
Lawyer and left-wing activist Michael Sfard told AP of Smotrich's new powers, "It's a sort of revolution, transferring powers from the military, with its legal obligation to consider the well-being of occupied people, to those only committed to Israeli interests."
Gadi Shamni, former head of the IDF Central Command, warned, "Smotrich took over the Civil Administration, the only tool that Israel has to calm things down. The West Bank will explode."
On the other side, residents of communities in Judea and Samaria who were quoted in the AP article praised Smotrich's actions which have improved their quality of life.
"This is the best government we've ever had," said 32-year-old Shulamit Ben Yashar from the outpost of Asa'el which received legal approval last week.
Rabbi Menachem Ben Shachar, a teacher at the newly rebuilt Homesh yeshiva, said, "Our government has finally figured out that withdrawing from land is a prize for terror."