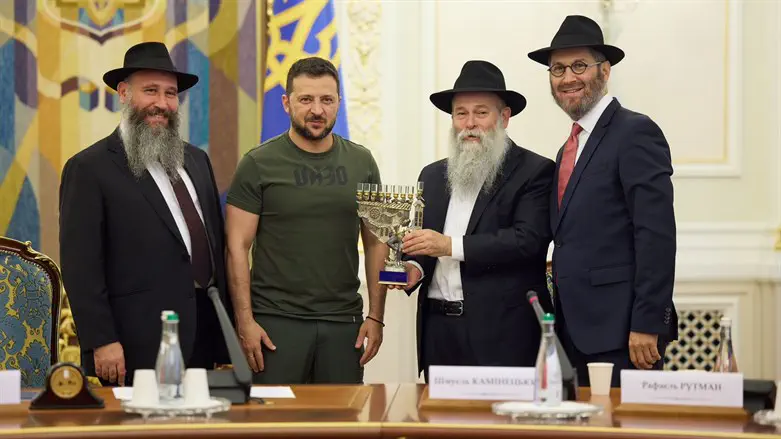 rabbis with President Zelenskyy
courtesy
Ukrainian President Volodymyr Zelenskyy met today (Thursday) with 32 Chabad emissaries and rabbis ahead of the Jewish New Year, Rosh Hashanah, which begins tomorrow night.
Zelenskyy told the Chabad emissaries: "Thanks to you, the illustrious Jewish community, with its rich history, thrives here. You contribute not only within Ukraine but also beyond its borders, benefiting both the Jewish and broader populations."
During the event, Zelenskyy called on the State of Israel to provide greater support to Ukraine as it continues to fight Russia's invasion of his country.
Speaking to Rabbi Yaakov Jan, the rabbi of Uman, where thousands of hasidim gather every Rosh Hashanah to visit the grave of Rabbi Nachman of Breslov, that he wants to see "greater support from Israel," in order to "facilitate Ukraine's task of accommodating the tens of thousands expected to visit Uman."
The Ukrainian president gave decorations to 15 Jewish Ukrainian soldiers during the event.
Following the meeting, Zelenskyy's office released a statement which read: "On the Eve of Rosh Hashanah, I met with representatives of the Ukrainian Jewish community, fighters, and rabbis. Thank you for supporting our country and our pursuit of peace. True peace can only be achieved through Ukraine's victory. We believe in our ability to restore a just and equitable peace to Ukraine as soon as possible."