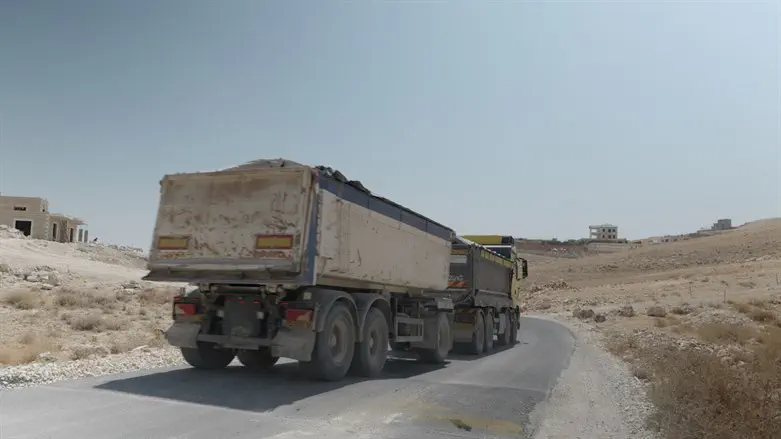 The construction in eastern Gush Etzion
Arutz Sheva
For over a year, the Palestinian Authority (PA) has been constructing an illegal city, in the heart of the Judean Desert. In the meantime, private homes and roads are being built within a nature reserve (known as the "heskemit" – or "agreed-upon reserve"), specifically cited in the Oslo Accords as a place where construction was forbidden.
However, the PA has broken the agreement.
The Gush Etzion Regional Council, along with the "Shomrim al Ha'Netzach" (Keepers of the Eternal) organization, on Thursday said that in addition to the illegal construction and the permanent damage being done to the Judean Desert, the PA is also destroying archeological sites, where antiquities from various periods were found, including from the Iron Age – or the times of the First Temple.
According to Gush Etzion sources, the area has never been studied in depth, aside from a number of preliminary surveys. About 40 years ago, Professor Yizhar Hirschfeld conducted a survey in which diverse archaeological findings were discovered, including various buildings from the Byzantine period, agricultural structures from the First Temple period, and ancient graves from prehistoric periods. In addition, several roads passed through the area which were important in ancient times, and which were severely affected by the illegal development taking place.
Researchers say that the construction seriously harms the ability of scientists to understand important parts of world history that took place in the Judean desert, which was an integral passage between the Land of Israel and neighboring countries.
The Gush Etzion Lands Department, in cooperation with Shomrim al Ha'Netzach, has launched an emergency survey from the air, in order to locate sites that are at risk and might be damaged, and they intend to contact the Ministry of Heritage and the Ministry of Defense demanding to conduct a comprehensive survey and immediately conduct excavations in the field.
Gush Etzion Regional Council head and Chairman of the Yesha Council, Shlomo Ne'eman, said: "The PA never intended to fulfill its commitments under the Oslo Accords, and from the moment of signing, violated the agreement. We have suffered thousands of deaths to date."
"In addition, as we see, they are also destroying our heritage and our history. They are trying to obscure our identity here. I demand that the Israeli government stop this illegal construction in the nature reserve very quickly, as every minute counts."
Moshe Gutman, CEO of Shomrim al Ha'Netzach, said: "The Judean Desert is in danger. The Palestinian Authority violates the Oslo agreements with one hand and destroys the nature reserve and the archaeological sites within it, and with the other hand seeks recognition from UNESCO as the protector of international heritage. The Israeli government must act immediately to preserve the nature and heritage of the Judean Desert, before it is too late."