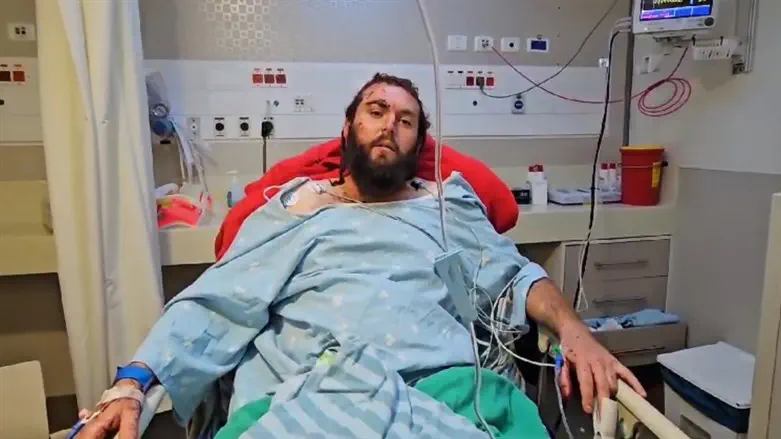 Ahiad Libman in the hospital
no credit
Achiad Libman, one of the two victims of the terrorist shooting attack in Huwara on Tuesday night, was released from Beilinson Medical Center today (Thursday). Libman was moderately wounded when he was struck by glass shrapnel caused by the shooting.
Libman's family released a statement saying: "'Give thanks to the Lord for His is good; for His mercy is everlasting.' Achiad Raphael ben Rachel Leah has now been released home to continue his recovery. We thank the medical team, the good agents of the creator of medicine, for all their dedicated care, and all the friends and relatives and the wonderful nation of Israel for their support and prayers. 'Let the year end and its curses, let the year begin and its blessings.'"
The second victim of the attack, Meir David Kahane, was released from the hospital yesterday.
Libman recounted the terrifying moments of the attack from his hospital bed yesterday.
"Yesterday around eight o'clock in the evening, I picked up a friend from the village of Tapuah for a concert by Ishay Ribo," he said, adding that the attack took place 150 meters before the Beitot junction in Huwara. "It's a corridor of murderers, a village that has produced dozens of murderers and instigators of terrorism in recent months and years."
"150 meters before the intersection we took a barrage of over 30-40 bullets from a submachine gun. It's an indescribable hell, I don't wish for anyone to go through something like that. In just a few seconds, before we could reach for our handgun to react, while we thought how to react so that the car behind our target would not get hit as well - In those few seconds until we decided to get out, our car was hit, and we were struck by a load of shattering glass that cut into our bodies."
"The front window was completely riddled with holes and we have no way to react, at this time I'm trying to push on the gas and the car didn't even respond to me. We got the car working and I hit the gas as hard as I could. We got to Beitot Junction and I told the guy who was with me to get to cover."
Later he said: "I got out of the car and fired four or five shots in the direction from which they were shooting at us. I thought that the damned terrorists wanted to finish us off completely, so I fired at least a deterrent shot as a response so that they wouldn't come to us. I had two soldiers next to me, unfortunately they were somewhat in shock. I learned that they were relatively new in the area. I asked one to cover us and the other to open the trunk of the car and take out a bandage for me and for Meir David who was with me. Two minutes later, a medic from the town of Eli arrived and treated us, then reinforcements arrived and evacuated us to Belinson Hospital."
Regarding the wave of terrorism, he said: "It is proven that we are reaching the situation of Oslo II. We are getting hit over and over again. This is not an era of a few knife attacks, it is terrorism by a large number of individuals who come individually so the IDF cannot track them down. The ones who attacked us were known about ahead of time, and the security forces simply could not find them. We appreciate their efforts, but it is time for a large operation, with targeted assassinations and an invasion of Jenin, not just slogans."
"This is our life, we chose to live, it doesn't make sense that the routine of the Arabs should be at the expense of our lives. This is a demand to the Chief of Staff, this is a demand from the Israeli government, they must do everything in their power, right now we feel that we are abandoned and feel like sheep that are just being trampled at every possible intersection, we can only imagine who will be the next victim and to see in the end that they will say 'our hands did not shed this blood.'"