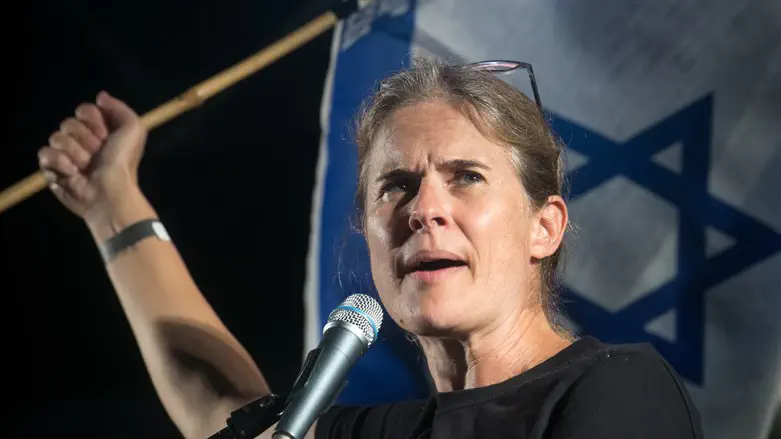 Shikma Bressler
Miriam Alster/Flash90
Ahead of Israeli Prime Minister Benjamin Netanyahu's trip next week to the US, the organizations behind the anti-government protests are preparing to hold a fundraiser for their supporters.
According to Ynet, prominent figures from the protests will visit to the US, and the event will take place in a restaurant owned by Eyal Shani in New York, where they will meet supporters of the protests.
"This is a fundraiser for the Kaplan Force - the only organization which produces and operates the weekly protests at Kaplan, Tel Aviv, where hundreds of thousands have gone every Saturday, for nine months, to express their unerring support for democracy," the official invitation read. "Kaplan is the life preserver and lighthouse of the protest movement. The Kaplan protests cost over $100,000 each week (think about producing a Taylor Swift concert every week). Please donate generously. Israel needs you!"
Tickets to the event are being sold for $40 each, and the invitation says that every guest must donate at least $100 to support the Kaplan protests: "These are the life preservers of the movement, and are funded only by the Kaplan Force," it reads.
The original invitation also gave a "price list" which enraged protest supporters in the US. According to the list, each donation of $250 receives the title, "Democracy Protector," and three t-shirts are given for $500.
A $1000 donation gives the donor the title, "VIP Protester," three t-shirts, a mug, nd a personal thank-you letter from protest leader Shikma Bressler.
A donation of $5000 gives the donor a private tour behind the scenes at Kaplan; $20,000 and more gives the donor a meeting with Shikma Bressler, either face-to-face or on Zoom.
However, some of the US supporters of the protest have slammed the move, claiming that the price list uses emotional manipulation and a feeling of attention as a "walking wallet."
Later, the price list was erased, and it was written that there had been an "editing mistake" and that Bressler is not involved in the event, and the initiative was a local one. The protest organizations also said that all of these initiatives and prizes which were promised "are not realistic."