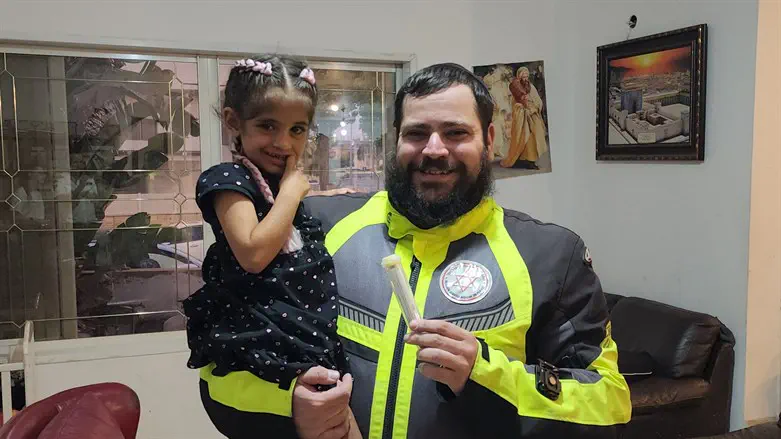 Meir and Ofri
MDA spokesperson
One Friday evening, about a year and a half ago, 4-year-old Ofri had a severe and life-threatening allergy attack.
Penina, Ofri's grandmother, immediately called the MDA hotline, where an emergency responder answered her, instructed her to act, and sent MDA medics to the scene.
Meir Shalev, a senior medic from the motorcycle unit, arrived at the scene within minutes, performed medical tests, and gave Ofri medical treatment that saved her life.
About three weeks ago, Meir received another call about a girl who had an acute allergy attack. He rushed to the scene and was surprised to find Ofri in the midst of another life-threatening attack.
Meir performed medical tests and quickly decided to use an EpiPen. Seconds later, Ofri recovered and began to respond. An MDA intensive care team that arrived at the scene evacuated her to the hospital for further tests and treatment while she was fully conscious and in stable condition.
Last week, Ofri's mother, Lidor, and her grandmother Pnina invited him to their house in Or Yehuda and thanked him for saving Ofri's life.
Lidor Gabbai, Ofri's mother, commented: "From the moment Ofri had a seizure, it was a matter of just a few minutes. The way you acted and the speed were simply amazing. It's simply a miracle what happened here. As soon as the symptoms began, Ofri was already in a bad condition, but Meir arrived within minutes and treated her in the most professional way there is. It is something that is difficult to explain in words, thank God this angel came to us. You are doing holy work, thank you very much."
Shalev said: "In both of Ofri's cases, it was an acute allergy attack. I remember that I arrived quickly, performed tests, and used an EpiPen that saved Ofri's life. In severe allergy situations, an EpiPen containing adrenaline is the thin difference between a tragedy and a miracle. It is important to remember that every person, even one without a medical background, can use an EpiPen and save lives. Seeing Ofri laughing and happy and, above all, healthy fills and warms my heart."