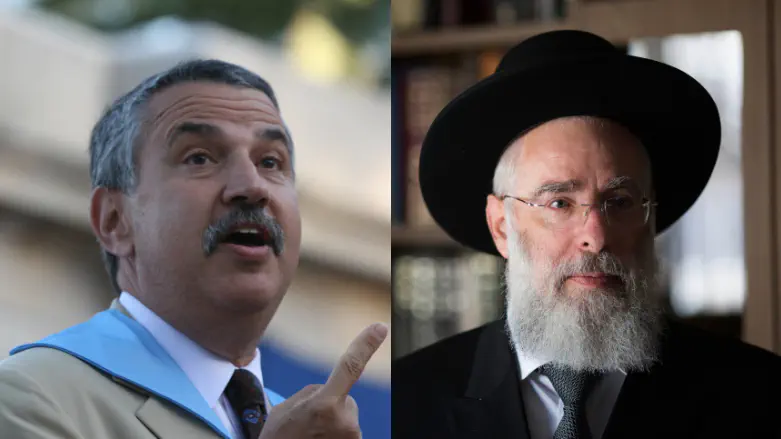 Thomas Friedman (L) and Rabbi Shapira
Yonatan Sindel/Rebecca Zeffert/Flash90
400 members of the anti-government reservist protest group met on Wednesday to discuss preparations for the next steps in their protest.
According to a report by N12, the activists invited Rabbi Yaakov Shapira, the head of the Merkaz Harav Yeshiva, a leading religious Zionist yeshiva, to join the meeting, as well as senior New York Times analyst and columnist Thomas Friedman, who has criticized the Israeli government's judicial reform plan.
In addition to Rabbi Shapira, accompanied by his son-in-law and head of the Merkaz HaRav Kollel, Rabbi Avraham Sylvetsky who talked about the Yeshiva's ongoing initiative "Am Echad - One People" - that he founded to encourage contact between the religious and secular, and Friedman, the meeting was attended by Professor Shahar Lifshitz from the Bar Ilan University Law School, who dissected legal aspects of the issue.
During the meeting, Rabbi Shapira explained the reasons for his support of the plan to reform the judicial system, and Thomas Friedman presented his stance on the matter.
Friedman is known for his hardline stance against judicial reform and the current government. In an op-ed published last week, he called on the US and Saudi Arabia not to advance a normalization deal with Israel as long as the current government is in power.
In the piece, he addresses President Joe Biden and Saudi Crown Prince Mohammad Bin-Salman and wrote: "Don't let Netanyahu turn you into his useful idiots. You can't normalize relations with a government that isn't normal."