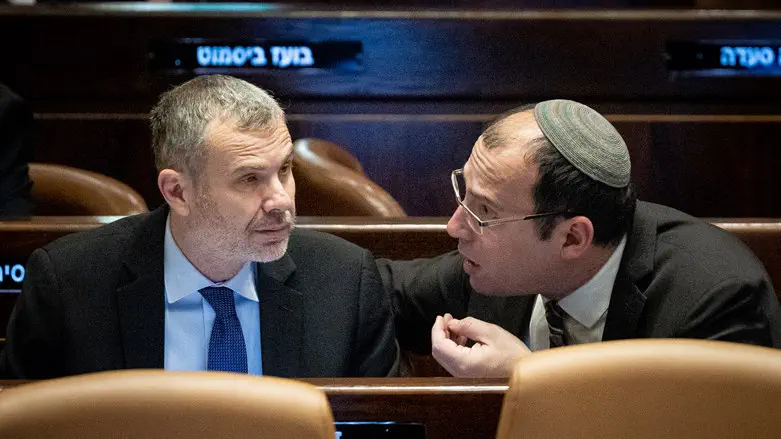 Justice Minister Yariv Levin and reform proponent MK Simcha Rothman
Flash 90
As part of the discussions on a unilateral compromise outline held by Netanyahu and the heads of the coalition, the possibility of a combined outline is being considered. This will include both the President's compromise from the past few weeks and the change in the composition of the committee for the selection of judges, Israel Hayom reports.
According to the proposal that came up in the internal discussions of the coalition, in the first stage of the current term, only the majority needed to elect judges will be changed so that the committee will remain in its current composition without change, but all appointments, including the Supreme Court President and supreme and district and peace judges, will be accepted by a majority of seven members, at least one of whom is from the opposition and one from the coalition.
The Minister of Justice and the coalition will have the right to veto all appointments - as was proposed in the President's compromise regarding the committee in recent weeks.
Along with this, a law will be enacted that will change the composition of the committee for the selection of judges so that it will appoint three opposition representatives, three coalition representatives, and three supreme judges, and the representatives of the Bar Association will be left out of the committee.