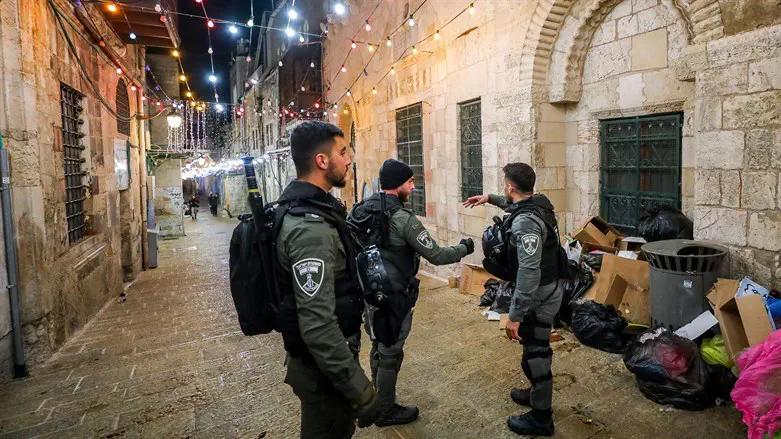 Scene of the attack in Jerusalem
צילום: Jamal Awad/Flash90
An indictment will be filed tomorrow (Thursday) against the terrorist who stabbed a police officer last week in the Old City of Jerusalem.
The attack took place last Monday, shortly after 9:05 p.m., when the terrorist approached the Hutta Gate in the Old City, face covered, and stabbed a policeman stationed there with a knife she had purchased from a store in the Old City.
Footage shows the terrorist purchasing a knife, stabbing the policeman, and being neutralized. The policeman was not injured because he was wearing a bulletproof vest.
After leaving the store where she had purchased the knife, the terrorist put her cell phone on airplane mode and handed it to a passerby, whom she did not know.
She went to pray on the Temple Mount and then carried out the stabbing attack, intending to become a "martyr".
The policeman responded immediately, pinning the terrorist to the ground and forcibly neutralizing her. The policeman himself, together with a Border Police unit that was stationed nearby, overpowered and arrested the terrorist.
Large police units under the command of the Jerusalem Police were called to the scene and began collecting findings. The knife with which the attack was carried out was seized, and the terrorist was arrested and taken for interrogation.
Sergeant Major E., who was stabbed while wearing a bulletproof vest and quickly neutralized the terrorist, recalled: "During a shift at the Hutta Gate in the Old City, a woman charged at me and began stabbing me in the waist. I realized that she was a terrorist, but I didn't shoot because there were passersby there. I pushed her away with my arms and legs and used force to neutralize her. She dropped the knife, and when she was lying on the floor, and the danger had passed, the Border Police unit and myself overpowered and arrested her."
"I realized that the vest had protected me and prevented the knife from penetrating my body. I and the other Jerusalem police officers here will continue to fight against terrorists and ensure security."
Jerusalem District Commander Major General Doron Turgeman later praised the local district policeman: "Reality requires us to be on high operational alert at all times and be ready for quick response. In this case, neutralizing a terrorist who attacked and tried to murder a policeman with a knife."
"The policeman responded immediately and with determination, as did the rest of the force that was with him. In addition to ongoing counterterrorism activity, we must continue to work swiftly and professionally and respond harshly to the threat of a 'lone terrorist,' which in recent months has been many young boys, and in this case, a female terrorist in her 40s."