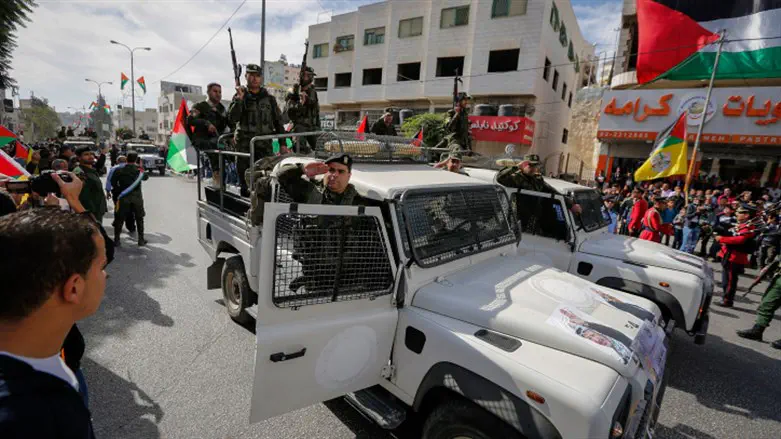 PA police officers. Archive
Wisam Hashlamoun/Flash90
Members of the Israeli government are infuriated by reports that the government authorized the transfer of armored personnel carriers and weapons to the Palestinian Authority in the United States.
Those close to Finance Minister Bezalel Smotrich (Religious Zionism) say they were not aware of the transfer and that the Minister is "boiling over with anger."
Those close to Smotrich assume that the move to arm the PA, as well as moves toward a unilateral compromise on the judicial reform, are "payments to Benny Gantz to create a unity government together which will push to revive the Oslo Accords." Smotrich is said to be planning an emergency consultation later in the morning.
A member of Smotrich's party, MK Tzvi Succot, commented on the report: "It's terrible. If it's true, I don't know how to live with it. We didn't come to play games."
National Security Minister Itamar Ben-Gvir (Otzma Yehudit) threatened, "Mr. Prime Minister if you don't commit in your own voice that the reports of a transfer of arms to the Palestinian Authority are wrong - there will be consequences. If you intend to push for a second Oslo government, please update your ministers and the public, and we will act accordingly."
Defense Minister Yoav Gallant denied the reports of the arms transfer, his office stating on Wednesday: "Despite the false picture that appears from various reports, since Defense Minister Yoav Gallant entered the position, no transfers of weapons or deadly arms to the Palestinian Authority have been approved. Any attempt to present things differently is deceitful and untrue." The Coordinator of Government Activity in the Territories (COGAT) denied the reports as well.
Earlier this week, it was reported that the United States transferred armored personnel carriers and weapons to the Palestinian Authority to support the PA's security mechanisms.
According to the Al-Quds newspaper, the armored vehicles and the weapons were transferred to the PA through Jordan with the consent of the Israeli government.
According to PA security officials, the transfer included no less than 1,500 weapons, including laser-guided M-16 and Kalashnikov assault rifles.
According to a report by Galei Tzahal, Israel set several conditions for the weapons' use: 1. It may only be used against terror and not against criminals 2. The weapons may only be used by the security apparatus - general security, counterintelligence, and the police.
PA security officials stated that the PA requested the arms and equipment over a year ago, but Israel refused. The green light was given in light of the summits that were held between Israel and its Arab neighbors in Aqaba and Sharem al-Shiekh, after a discussion with COGAT.