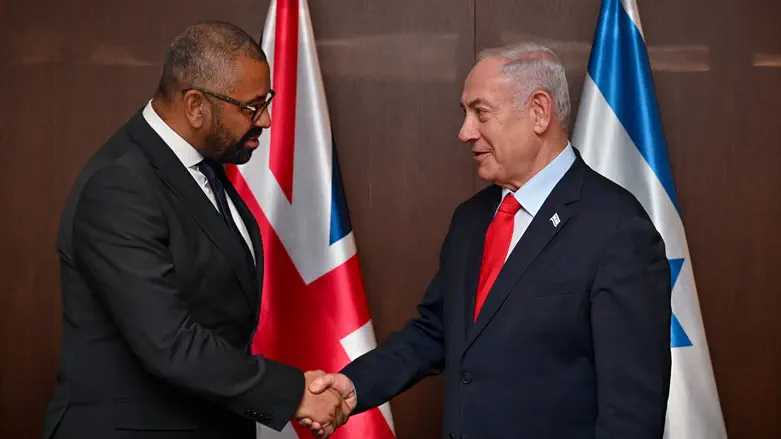 Netanyahu with British Foreign Secretary James Cleverly
Kobi Gideon/GPO
British Foreign Secretary James Cleverly on Tuesday called on Palestinian Authority (PA) chairman Mahmoud Abbas to condemn terrorist attacks against Israelis, rather than spread "disgusting antisemitic tropes," JPost reported.
"When I meet with the leadership of the Palestinian Authority… I will make it clear that rather than spreading disgusting antisemitic tropes and outrageous distortions of history, they should be clear in their denouncement of violence," Cleverly was quoted as having told the World Summit on Counter-Terrorism in Herzliya.
The PA "should be clear that there is no acceptance for brutality and terrorism," Cleverly said, adding, "It "should be clear that there is no excuse to target Israelis, particularly Israeli civilians, because that is the only way that peace is possible."
Cleverly's comments follow Abbas' recent antisemitic speech in which the PA chairman claimed that Jews are not Semites and that Adolf Hitler only killed Jews "because they dealt in usury and money".
The comments have been widely condemned. Among those to condemn the speech was US Special Envoy to Monitor and Combat Antisemitism Deborah Lipstadt.
Rep. Adam Schiff (D-CA) also blasted Abbas' speech, writing on X, "I strongly condemn Palestinian President Abbas's recent comments, which egregiously distort the horrors of the Holocaust and repeat false tropes about Jews."
"His remarks add fuel to the fire at a time when antisemitism and violence against the community are so alarmingly on the rise," he added.
Paris mayor Anne Hidalgo stripped Abbas of the French capital's highest honor due to the speech.
The Representative Office of Canada to the PA joined in on the condemnation of the speech, writing, "We strongly condemn the inflammatory and antisemitic comments made by President Abbas. These remarks distort the historical truth of the Holocaust and promote classic and contemporary tropes of Jew-hatred."
Cleverly in his remarks on Tuesday lauded the strong bilateral relationship between Israel and the United Kingdom and condemned Iran for its call to destroy the Jewish state as well as its support of terror against it.
"Iran refuses to take responsibility for their complicity in these attacks, but we in the UK are under no illusion about Iran's maligned role," he said.
On Monday, Cleverly met Prime Minister Benjamin Netanyahu at the Prime Minister's Office in Jerusalem. Earlier in the day, Cleverly also met Foreign Minister Eli Cohen, who described the British Foreign Secretary as "a true friend of Israel".