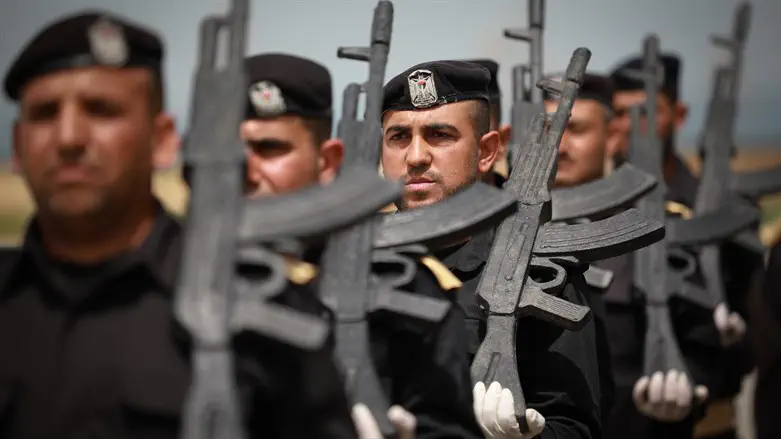 Hamas ceremony, Gaza
Flash 90
Ahead of the anniversary of Israel's withdrawal from the Gaza Strip in 2005, which will be marked Tuesday with a military exercise by the Palestinian terrorist organizations, the website of the Hamas newspaper Al-Risala published an article dealing with the consequences of the Israeli withdrawal on the Palestinian Arab terrorist infrastructure.
The Hamas newspaper noted, "The withdrawal of the occupation from the Gaza Strip in 2005 is a turning point in the history of the resistance (in this context, the armed conflict) in the Gaza Strip, which before that was in the stage of initial development from stone to weapons and rockets."
According to the newspaper, there is a consensus among the experts that "the withdrawal of the occupation from Gaza significantly helped to strengthen the strength of the resistance until it reached the point of adopting diverse conflict strategies."
In an interview with the newspaper, the political commentator, Amer Saad, said that "the occupation believed that its escape from the Gaza Strip would bring it security, while the Gaza Strip districts became the starting point for the great liberation (of Palestine)."
Saad further noted that the Palestinian terrorist organizations have developed a deterrent force against Israel, and they established it in the round of confrontation in May 2021 (Guardian of the Walls). Today, he explained, the strategy of the resistance is based on the concept of unity of the different regions, which also includes the Judea and Samaria areas.
Journalist and political commentator affiliated with Hamas, Mustafa al-Sawaf, said in this context: "The withdrawal of the occupation from the settlements in the Gaza Strip was carried out under the blows of the resistance and not because of a deal or a negotiation plan."
"Former Prime Minister Ariel Sharon said that the town of Netzer and [the city of] Tel Aviv are of equal importance, whereas today we see that Netzer has passed from the world and the land has returned to its owners."
According to him, Israel had no choice but to "run away" from Gaza because of the intensity of the suicide attacks, the shooting attacks, and the launching of the rockets that took a heavy toll on it.
Al-Sawaf also said, "The withdrawal of the occupation from the Gaza Strip and getting rid of the security forces (security of the Palestinian Authority) that persecuted the fighters was the golden opportunity that led to a significant development of the resistance (the armed struggle)," which "improved in quantity and quality," and today "constitutes a qualitative threat to the occupation."