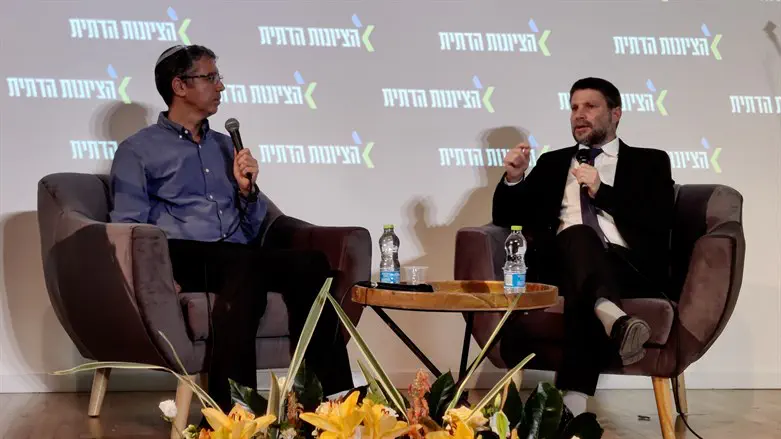 Interview with Smotrich at Religious Zionist Party conference
Israel National News
Finance Minister and Minister in the Ministry of Defense, Bezalel Smotrich, reacted on Monday evening for the first time to the statement of the head of the National Security Council, Tzachi Hanegbi, who said that Israel has already started talks with the Palestinian Arabs on the issue of the price it will pay for normalization with Saudi Arabia.
Asked by interview Rabbi Chaim Navon about Hanegbi's comments as he spoke at a gathering of the central committee of the Religious Zionist Party, Smotrich replied, "I read the quote of Hanegbi and I do not know who he represents. He certainly does not represent the majority of the coalition members and, as far as I know, not the Prime Minister either."
Smotrich stated, "We are in favor of an agreement with Saudi Arabia. It serves the interests of all parties: American, Saudi and Israeli. Our government will not harm the settlement, but only strengthen it."
He added, "Our government will not come one kilometer close to something reminiscent of Oslo, and it will not take Netanyahu's greatest achievement in the Abraham Accords, of peace for peace, down the drain. The entire novelty of the Abraham Accords is that the Arab countries recognize Israel and reach a true normalization of peace for peace. An agreement with Saudi Arabia needs to continue this line of Netanyahu's and not involve the Arabs of Judea and Samaria who have nothing to do with the process."
Hebrew video:

השר סמוטריץ': ויתורים לפלסטינים? דברי ראש המל"ל לא מייצגים אותנו
דוברות